Burro Pass

Burro Pass is the most popular pass in the La Sal Mountains with mountain bikers. During summer and fall they are shuttled up to Geyser Pass by the dozens. From there they have a relatively short uphill to the top of Burro Pass. On top waits an enormous, mostly downhill route dubbed "the whole Enchilada", which follows largely single track trails down to Thomas Lake, then the Hazard County Trail to the Porcupine Rim section of the Kokopelli's trail, all the way down to the Colorado River in Moab.

The profile below is a different route, that I tried out. It goes up the pass and down the pass, not just down it, and also uses easier surfaces whenever possible. I wanted to complete a loop over the pass in a day, and I can still climb faster on pavement or dirt roads than on a trail. There are innumerable possibilities to construct a loop over this pass. The profile below is just an example showing the large scale of the horizontal drops in the La Sal Mountains. The steep trail over the top of Burro Pass immediately stands out in all of these profiles.



click on profile for more detail

01.(4860ft,mile00) START-END NORTH: southern start of La Sal Loop Road, near Kens Lake
02.(5710ft,mile05) paved road on right goes up Pack Creek and to La Sal Pass, profile stays left
03.(7050ft,mile12) dirt road on right goes to Geyser Pass; profile stays left
04.(7750ft,mile13) dirt road on right goes to Oowah Lake; profile stays left
05.(7930ft,mile15) route turns right onto dirt road to Warner Lake
06.(9360ft,mile20) START-END NORTH ALTERNATE: start of TR33 single track up Burro Pass
07.(11170ft,mile24) TOP: Burro Pass
08.(10538ft,mile26) START-END SOUTH: Geyser Pass; profile continues south on FR129
09.(10700ft,mile30) highest point on FR129 Geyser Pass s(u)
10.(7800ft,mile41) dirt road on right goes to La Sal Pass; profile stays straight
11.(7730ft,mile43) jct with paved Ut46. Profile turns left to town of La Sal
12.(6970ft,mile46) town of La Sal
13.(5900ft,mile56) START-END SOUTH ALTERNATE: La Sal Junction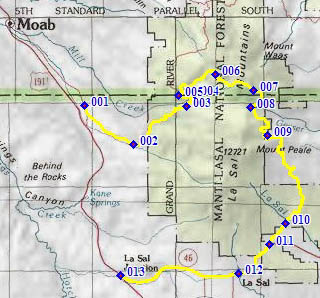 Approaches
From North. The profile starts at the northern most La Sal Loop Road turnoff from US191. The turnoff is signed as Kens Lake. Just getting to the first dirt road turnoff from here is more than a 3000ft climb, almost half of the elevation gain to Burro Pass. There are more details on the La Sal Loop Road s(u) page.
At point 4 an easily cycled, lightly graveled road turns off the loop road. It heads further up the ridge above Mill Creek on Bald Mesa. From this name you would suspect that you have pretty good far views, and you do. Evening light is much better than morning light on this ridge. Before reaching the campground an the lake the road passes the "Hazard County Trailhead". This single track option mentioned above covers the elevation downhill from here on a more northerly route. The profiled route continues uphill to the campground, where there are number of trail intersections, along with a detailed map of the "whole Enchilada Route". The route up Burro Pass is at the end of the road.
The trailhead of the single track is actually the last chance to get a far view, until the other side of the summit. The trail starts out easily rideable and smooth, and even goes down a short hill to cross the Dry Fork of Mill Creek. As the route progresses and turns up the West Fork, it becomes much steeper and rockier, and less dry too. Even in October there are still many wet stream crossings. On my traversal of the route I was the only one going up it, while the downhill traffic was overwhelming. I was assured several times that I was doing it the hard way, but these guys have never seen me go downhill. Approaching the top, the rocky talus slopes of Haystack Mountain (11641ft) appear in the upper right field of vision. The trail has some especially steep switchbacks here. But, surprise, you never reach those talus slopes, as the trail finds a small grassy saddle, just barely above timber line. There is barely a far view from here, and you can't see the way you came up at all. On this sunny last day of September there was barely enough room at the very top to accommodate all the bikers coming up from Geyser Pass. On this occasion I learned a new meaning of the word "chainsmoker" from fellow cyclists. Just west of the pass a lovingly crafted sign directed the chainsmokers to their record size enchilada downhill. There is also a foot trail leaving south from here towards Manns Peak.
| | |
| --- | --- |
| | |
| | |
| --- | --- |
| | |
| | |
| --- | --- |
| | |
From South. (described downwards). The approach between the tops of Burro Pass and Geyser Pass is ridable in both directions. This side has fewer rocks than the upper section of the northern approach and leads through grassy slopes that also give much better views of the surrounding peaks. Actually my favorite mountain views of the entire crossing were at the bottom of the trail, on this side, and the subsequent dirt road that connects with the Geyser Pass Road. Prior to reaching the road there is also another signed single track turnoff down Moonlight Meadows trail, which apparently joins back to the lower western side of the Geyser Pass road.
But there are many other ways to descend, for example go down the eastern side of Geyser Pass instead, from where the hut-to-hut touring mountain bikers come up. But I don't think they want to carry all their gear over Burro Pass. In order to make this into a long loop, still feasible for one day ride, one can also continue over FR129 to the south. This road reaches a higher altitude than Geyser Pass and there is more on the FR129 Geyser Pass s(u) page. Except for the long awaited downhill, that just won't come until several miles into the ride, it's a fast dirt road ride.
The turnoff to La Sal Pass is only about two miles before reaching paved Ut46. This fact may be useful when looking for the turnoff as a way back towards the Moab side of the valley. From the road it appears like there is another easily feasible route across the range much further north, that could be mistaken for the La Sal Pass turnoff. This road near a cow corral with a scenic back drop dead ends without mercy. Rather than heading over La Sal Pass, the profile takes the path of least resistance on pavement back to La Sal Junction.

Dayride
PARTIALLY PAVED / UNPAVED / SINGLE TRACK
Burro Pass , FR129 Geyser Pass s(u) , La Sal Pass , short additional out and back: FR651 South Ditch on La Sal Loop Road > La Sal Loop Road south > FR63 > Warner Lake > TR315 > Burro Pass > down FR71 > Geyser Pass (shp) > FR129 Geyser Pass s(u) > FR73 west > La Sal Pass > down Pack Basin Road > north on La Sal Loop road back to starting point: 62.8miles with 9070ft of climbing in 8:17hours. (VDO MC1.0 m3:11.9.30) Notes: on a weatherwise perfect last day of September, when leaves where at their most colorful.