Bear River Plateau -1(sh)

The name Bear River Plateau describes this land feature well. On three sides it is bordered by the Bear River. Yet no sane, normal tourist would ever get off the paved roads and explore this sagebrush covered noman's land. ... for the most part. Even if I didn't see any other tourists, and no vehicles on the dirt tracks between unsigned intersections, given the right weather conditions, there are some impressive expansive views here, that mostly only ranch people seem to know about. But mostly this is a diverse wildlife area.


1.(00.0m,5940ft)START-END WEST: north end of Main Street in Laketown, along shore of Bear Lake
2.(00.9m,5960ft)route joins Ut30, south side of Bear lake
3.(05.4m,7090ft)route turns off Ut30 onto unmarked dirt road
4.(06.3m,7290ft)TOP
5.(15.7m,6240ft)START-END EAST: profile joins paved Manhead Rd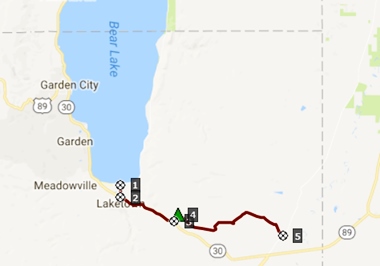 Approaches

From West. Much of the beginning of the profiles doesn't really fit in with the introduction above. But the profile has to start at the bottom. It follows paved Ut30 away from Laketown on the southern tip of Bear Lake and climbs a fairly nondescript canyon with hardly any walls and plenty of sagebrush to a shallow top.

At the summit of the Ut30 road the profile turns on an unlabeled BLM road to the north. At the first intersection the left track is labeled as "restricted walk-in access". The profile stays right and reaches a high point at the next intersection. At least it is a high point if you take a right here. The other two tracks reach higher but are less used.

This summit point has a panoramic view, made up of building block dessert landscape features. To the west the low ridge, ruffled like a curtain: the Bear River Divide; behind that the high snowy source of the Bear River: the Uinta Range. To the east, a thin snowy line at the horizon: the Bear River Range. Almost everything's got a Bear in it. But today you see only cattle or Rattlesnakes.

| | |
| --- | --- |
| | |
| | |
From East. (described downwards). The way down the east side to a ranch is the route that I recorded with my gps. There is a maze of ranching tracks here. The ones I followed are the more easily ridable ones. Waypoints along the way are: the occasional watering tank for lonesome cattle in a sea of sage, or the occasional stick of salt stuck in the ground for the mineral hungry cattle. "Watch out for the gigantic gopher holes" I kept reminding myself. Without a gps I would be afraid that this track would end behind every next corner at some stinking cowpit. With a gps I was still wondering about this possibility. But I was happily surprised: the route went through.

The last part is a scenic descend above the Bar-something Ranch - available for groups between 30 and 100 (according to the sign). That size requirement should cover the majority of Mormon families. - In a way American ranches are like European hill towns. There must be 1000s of them, and most are in such isolated areas, that you still have a sense of discovery when you encounter one in an especially scenic setting during a bike ride. But maybe the feeling of being wellcome is more pronounced in many hilltowns. To get to the nearby visible paved road, I had to cross a gate and walk across a field. The paved road (named Manhead Road) leads to the Bar-something ranch.
Dayride with this point as highest summit:

PARTIALLY PAVED / UNPAVED

( < Bald Mtn Pass | South Eden Cny - North Eden Cny(sh) > )

Bear River Plateau -1(sh) , Bear River Plateau -2 s(u) , additional out and back: Bear River Plateau -1(sh) > down unmarked tracks as shown on profile <> out and back for a short distance west on Manhead Road >> Manhead Road east > Six mile road north > following unmarked roads shown on Bear River Plateau -2 s(u) profile west > down South Eden Canyon Rd > Cisco Rd north along shore of Bear Lake > Ut30 east > unmarked dirt road back to starting point: 45.2miles with 2560ft of climbing in 4:34hrs (garmin etrex30:17.6.14).


cLiCk on image , arrows , or thumbnails to advance slideshow