-
Buck Creek Road via Soup Creek Road(sh)
Buck Creek Road, Soup Creek Road and Lindy Bridge Road in Elliot State Forest all meet in close proximity. All three of them are tailor made for tree watching from a a bicycle. This shoulder summit point is located on Buck Creek Road. But in order for this to be the highest point you have to approach it via Soup Creek Road (also see
Buck Creek Road s(u)
.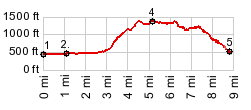 1.(440ft,mile00.0)START-END WEST: jct Loon Lakr Rd - Soup Creek Rd, north of Ash
2.(480ft,mile01.1)route gros right onto Soup Creek Rd.
3.(1410ft,mile04.4)TOP: immediately beore turning right onto Buck Creek Rd
4.(1400ft,mile05.2)profile stays left on Lindy Bridge Rd
5.(580ft,mile08.9)START-END EAST: jct Camp Creek Rd - Lindy Bridge Rd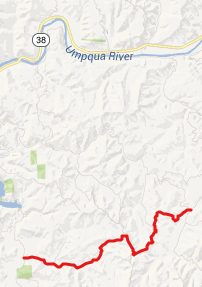 Approaches
From West. South of Loon Lake, just north of the few houses labeled as Ash on the map, Soup Creek Road takes off towards the east. It is completely flat while passing a few isolated houses till reaching the junction with the North Fork Soup Creek Road. Staying right on Soup Creek Road, this becomes a narrow steep tunnel through patches of old growth vegetation between other kinds of dense forest. This road is not quite as overgrown as the Buck Creek approach, but still narrower than the Lindy Bridge Road approach

From South. (described downwards) Turing left would go a little higher over Buck Creek Road s(u). The profile turns right and descend Lindy Creek Road, also described on the Buck Creek Road s(u) page.

A Dayride with this point as intermediate summit is on page: BLM 23-8-28 Elliot State Forest s(u)