Blue Box Pass

With all the peaceful, remote paved roads that Oregon has to offer, it seems like a waste to pick a busy highway like this for a bicycle tour. But maybe during off season months, it really is not that bad, and there are a few Mount Hood sightings along the way. - Also, the shoulder is huge, often as wide as an extra lane, great even by Oregon standards (of course no rumble strips).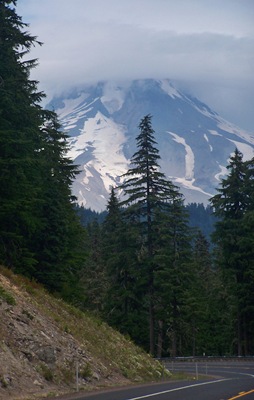 Approaches
From South. Busy US26 climbs gradually and without views of any kind from Warm Springs Junction, then crosses Clear Creek to the summit.

From North. (described downwards) Just past the summit the first view of Mount Hood appears, and it stays in view for the majority of the descent. Along the way the road passes Wapinitia Pass, also signed complete with elevation. But it is just a shoulder point. You roll right past it.

A Dayride with this point as intermediate summit is on page: Barlow Pass