Osceola Road s(u)

This is a good dirt road above the vast Spring Valley. It parallels Sacramento Pass and can be combined with it in a short day, or half day ride. A mountain bike race across Nevada also uses this road.


1.(5789ft,mile00.0) START-END WEST: jct US50 - CR38 Osceola Rd
2.(7640ft,mile05.4) TOP
3.(6810ft,mile10.3) START-END EAST: CR38 ends on US50 and profile continues to right
4.(5100ft,mile25.8)START-END EAST ALT: jct Ut159 - US50, just east of Ut-Nv line
Approaches
From West. After US50 gets done crossing Spring Valley in a single line, drawn with a ruler, Osceola Road appears to continue along that line, heading up into a gap in the Snake Range, while US50 detours to the north to find Sacramento Pass.

The good dirt road climbs steeply, but not nearly as steeply as the foreshortened view from the valley makes it seem. The road is far from civilization, water and food stores, it is also far from undisturbed nature. The road passes several mines, where people seem to have collected everything, that won't fit into the regular garbage for the last hundred years. Finally the road levels out and contours around an especially messy mine, like an airplane in a holding pattern. Far below, regularly arranged rows of windmills in Spring Valley give off an other worldly appearance.

Now the road finds a forested path, following a ravine, passes one more "private - no trespassing" sign protecting rusted cars and rotting timber, and then it's just forest and sweat to the summit.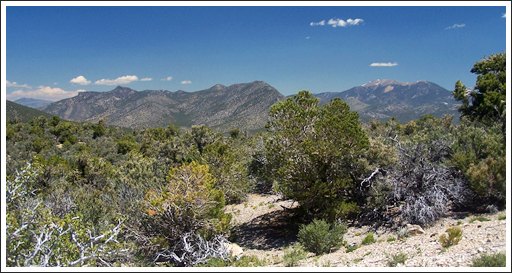 view into Utah on the east side

The highest point is at a cow grate in low brush forest. Two roads to the right in the summit area climb higher and, according to the map, also lead back to the Sacramento Pass Road, further down valley than Osceola Road. I followed one of these roads for a little distance and the route becomes much rougher than the "civilized" Osceola dirt road. (That's why this is a summit, not a shoulder summit)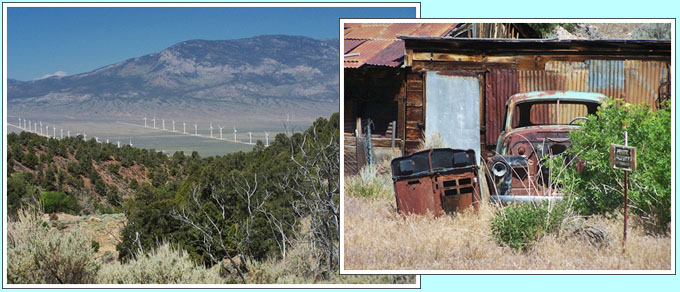 From East. (described downwards) A fast straight descend affords a few views of the next range to the east, the Burbank Hills. Where Osceola Road joins paved US50 coming down Sacramento Pass, a parking area so large, it's called a recreation area, spreads out. There is small sign with a short, concise history of the area. The profile continues on US50 to a low point in the Snake Valley.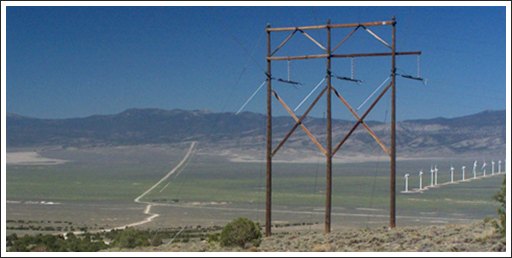 windfarm scenery on the eastern approach

Dayride.

PARTIALLY PAVED / UNPAVED

( < Cooper Canyon s(u) | Robinson Pass > )
Osceola Road s(u), Sacramento Pass : Spring Valley: jct US50 - Osceola Rd > up Osceola Rd > Osceola Rd s(u) > down Osceola Rd > down US50 << turnaround point: turnoff to Strawberry Creek Entrance into Great Basin NP > US50 west > Sacramento Pass > back to starting point: 36.6miles with 3250ft of climbing in 3:39hrs.
Notes: the day included another short ride, where I tried unsuccessfully to get up the west side of the Snake Range further south, using roads shown on the de Lorme Gazetteer, which apparently don't exist, adding 5.4miles with 690 ft of climbing in 0:50hrs to the day. Also, the hot gale force wind from the south in Spring Valley made this ride seem longer than it was.