Robinson Pass
West of Ely, US50 crosses several pancake like passes and summits. Even though they are not much lower than
Sacramento Pass
and
Connors Pass
to the west of Ely, the scenery on the east side feels much more like an undulating plane than a mountain pass crossing. Drivers probably never even know that they are crossing several passes and summits. But cyclists certainly do, and all of these summits are nice vantage points on the surrounding scenery.

1.(6390ft,mile00.0) START-END EAST: Ely, jct US50 - US93
2.(7539ft,17.9miles) TOP: Robinson Pass
3.(7130ft,21.6miles) first jct with CR17, thirty mile road
4.(6870ft,22.1miles) START-END WEST: Jake's Wash Rd takes off on left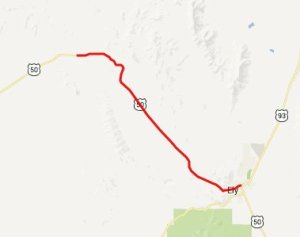 Approaches
From North. Leaving Ely through its western end, you ride through a veritable mural art gallery. This old main street shows the town from its most attractive side. After that the first 5 miles of US50 climb ever so slightly and parallel the rails, that belong today to the Ely Railroad Museum. In Ruth the road is dwarfed by the surrounding hills, which in this case are tailings from the adjacent mining operation.

A long line of a road heads into the pancake like hills to the northwest. During the last mile or two a noticeable climb crests in a curve. During clear, late light the view onto the part of the Egan Range, that is south of Ely has a grandiose dessert quality, that I tried to capture in the picture below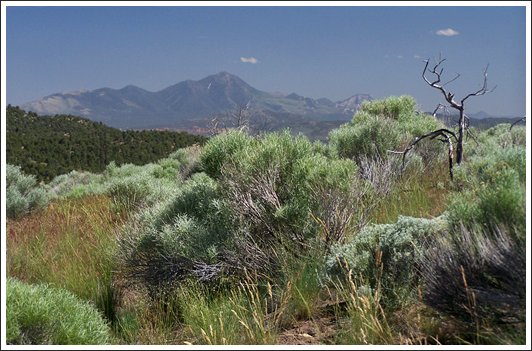 telephoto view of Egan Range from summit of Robinson Pass
From South. (also described upwards) US50 crosses the sage flat of Jakey valley in a single straight line. But I probably shouldn't even be mentioning that any more, since that is what US50 usually does in Nevada valleys. But to me it is still a spectacle.

Trying to figure out just the lowest spot in this valley really, is one way to keep the mind occupied, and in vast surroundings like this, it's an interesting question. On a bike it's virtually impossible to tell where the lowest spot along the road really is. Looking at the surroundings float by ever so slowly, a slight upward bend now makes the road now seem flat. But the maps says the bike is going uphill already. And usually there is a strong wind, that distorts the perception even further. Finally - there is no stream, not even a dry stream bed that I could see, that marks the spot. As for the rest of the ride: the road climbs ever so slightly and stays in a ravine almost to the top.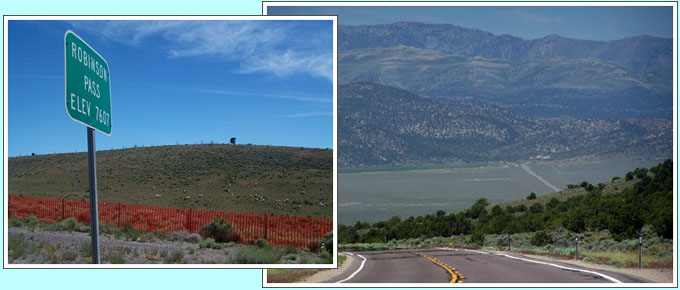 left: another Nevada pancake pass in the dessert
right: rolling down into Jakey Valley - brakes optional

Dayride

COMPLETELY PAVED:

( < Osceola Road s(u) | Little Antelope Summit > )
Robinson Pass x2: Ely <> US50 <> Robinson Pass <> top of Little Antelope Summit: 88.7miles with 3820ft of climbing in 6:04hrs (VDO MC1.0 r2:13.6.14)
Notes: also includes looking down a few short dirt roads for the next campsite. Even on a generally calm day, it seems to be windy on this route.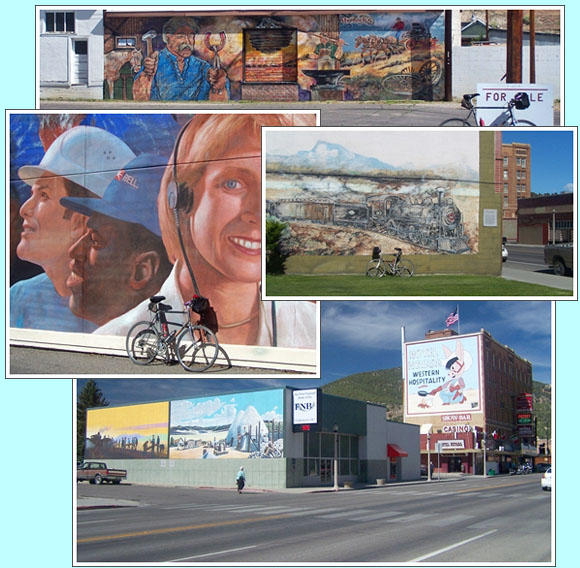 various murals in Ely