FR50436 Cooper Canyon s(u)

This summit runs parallel to the paved
Connors Pass
, and since I like to combine unpaved with paved sections in a single route, for me this made for a great loop ride.

1.(6800ft,mile00.0) START-END WEST: NV486 crosses Steptoe Creek
2.(7280ft,mile04.0) profile turns left onto FR50574
3.(8250ft,mile08.1) profile stays left on FR50436
4.(8640ft,mile09.1) TOP
5.(6040ft,mile19.4) START-END WEST: jct NV893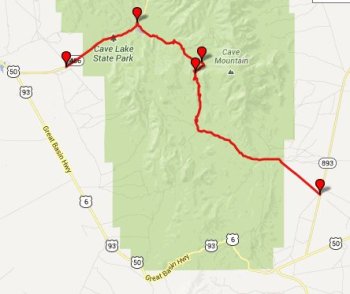 Approaches
From North. The profile starts at a lowpoint on the road to Cave Lake State Park, south of Ely. Rather than continuing straight up Success Summit, the route turns right to a campground, situated around that cozy little lake, and climbs from there. A signed left along the route appears to be an out and back route to Cave Mountain (10742ft). Staying on FR40436, the road switches back to the west and quickly gains the ridge. The view is obscured enough that you can't clearly see the peaks in Great Basin National Park.

From South. (described downwards) The immediate view ahead is of a road clinging to the top of a small ridge, making a nice foreground to rolling peaks in the Schell Creek Range. As you start rolling down, it becomes apparent that this is a spur road, and the direct descent stays close to the valley bottom.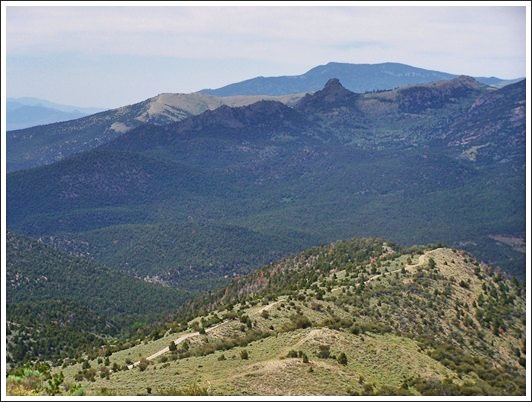 Finally a view of Wheeler Peak (13063ft) in the national park appears, as background to a winding road. But a power line also follows the valley at this point (it crosses the main ridge further south), so many views are again obscured. Actually my favorite spot along the route is the end point of this profile, where a slowly decaying "Cooper Canyon" sign points the way, and there is also a 360 degree panorama, in spite of the fact that this actually the lowest point, and not the highest.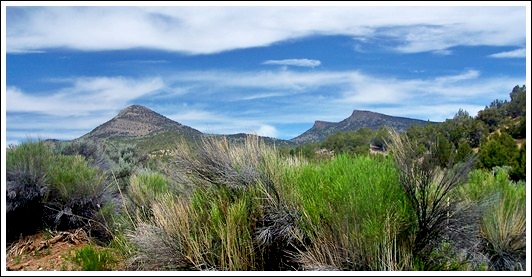 Dayride

PARTIALLY PAVED / UNPAVED

(< Success Summit | Osceola Road s(u) >)
FR50436 Cooper Canyon s(u) , Connors Pass: just north of Cave Lake State Park > Cave Lake campground > FR50436 Copper Canyon s)u) > down Copper Canyon > NV893 south > Majors Place > Connors Pass > back to Cave Lake State Park and starting point: 51.7miles with 4230ft of climbing in 4:42hrs (VDO MC1.0 13.6.12)