Little Antelope Summit

This is a forested summit on US50 between Ely and Eureka, connecting the Jakey and Newark Valeys. Like all the US50 summits, there is are two signs on top. There is very little traffic and very few, if any noticeable rumble strips. It seems many of them have been paved over.


1.(6430ft,mile00.0) START-END EAST: jct US50 - CR3, west side of Jakey Valley
2.(6870ft,mile05.7) jct with FR400/401 on left to Illipah Reservoir
3.(7438ft,mile10.9) TOP: Little Antelope Summit
4.(6180ft,mile21.1) START-END WEST: jct US50 - CR1, Newark Valley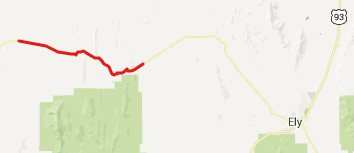 Approaches
From East. On the straight away through Jakey Valley the mountains behind the next climb to the west, look like staggered pages of a big book, lying on its side. The view is partially hidden by lower hills - it's flat and its far, it may be hot and it may be windy, but it's not high.

A few turns through a small ravine lined canyon lead to the next forested summit. Several hundred feet below the top is a dirt road turnoff to Illipah Reservoir and several mining town ruins. There are nice undeveloped campsites on top of the pass, but no view.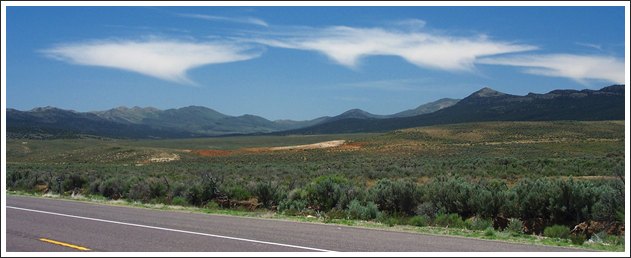 clouds acting rather peculiar, on the way to Little Antelope Summit
From West. (also described upwards). On my out-and-back dayride I had to get back to one of the aforementioned campsites on top of this pass. After all those miles in the heat, just gaining the first several hundred feet of altitude on the straight road through Newark Valley was the quite a bit of work. After that the road entered a low canyon and blocked the strong southerly wind, the rest of the climb was more pleasant, and on top a nice cool spot was waiting.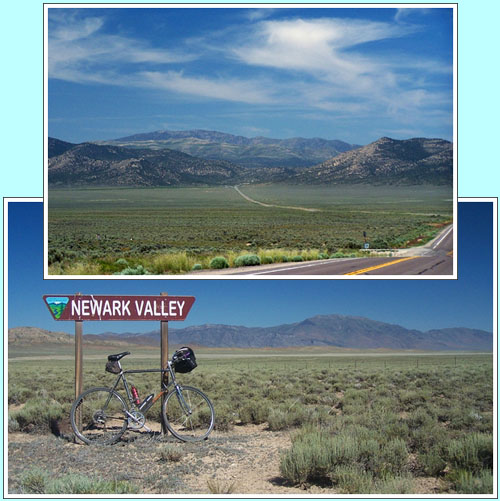 Newark Valley: the valley is here - but where is Newark ?

Dayride.

COMPLETElY PAVED:

( < Robinson Pass| Pete's Summit > )
Little Antelope Summit , Pinto Summit x2 , Pancake Summit x2 : top of Little Antelope Summit <> US50 east to turnaround point 330ft below summit >> <> US50 west <> Pancake Summit x2 <> Pinto Summit x2 <> Eureka <> turnaround point jct NV278 - US50 north of Eureka: 84.5miles with 5430ft of climbing in 6:32hrs (VDO MC1.0 r2:13.6.16).