Pete's Summit
This is a forested summit between two stark dessert valleys. It's claim to fame is a cave with petroglyps near the top. A quiet forest campground at the top invites for a visit.


1.(6450ft,mile00.0) START-END EAST: jct Monitor Rd (BelmontRd) - Grimes Ranch Rd
2.(6730ft,mile6.5) profile turns left from Monitor Ranch Rd onto FR001
3.(7770ft,mile13.0) TOP: Pete's Summit
4.(5750ft,mile23.9) START-END WEST: FR001 at jct with second turnoff to the north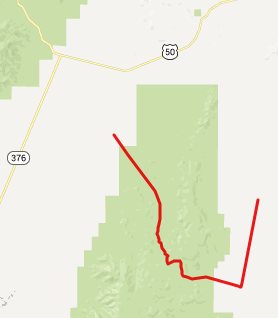 Approaches
From East. Monitor Valley Road ( for some reason labeled Belmont Road on Google maps) runs south from US50 between the Monitor range and the Toquima Range. The de Lorme Gazeteer map shows this road crossing something called "Bottle Pass". But this is not really a pass and the descent on the southern side is less than 200ft before the road climbs again to a higher elevation.

The elevation profile begins at a low point along this road. With a hot wind blowing from the south, two mountain ranges left and right disappearing into a blue fuzed haze, not a tree in sight, just sagebrush as far as the eye can see, this must be one of the more hopeless seeming point around - either that or awe inspiring - I can't make up my mind.

The only human structure of the day comes nearer, a collection of buildings labeled Monitor Ranch on the map. But before reaching them the profile takes a hard right, and starts climbing towards nothing more than a distant lip of green trees. Well - at least there's hope of reaching some shade by lunchtime. The climb is gradual enough, but the heat makes it seem like a workout anyway. Later in a dense juniper forest the road quickly reaches a pass. There is a national forest campground without water at the summit, and also a short trail to a cave with petroglyphs. - No real far views to either side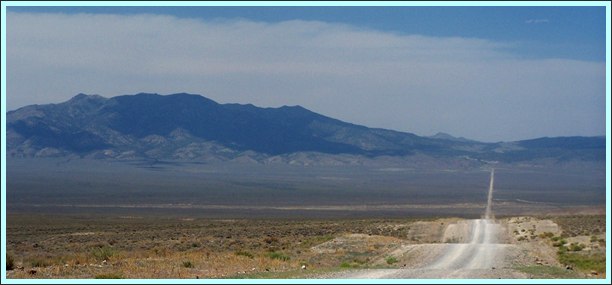 second picture from below is taken on the lower eastern approach; all others: lower western approach
From West. (described downwards) But after starting the descent on a few turns on red, dusty earth, you see what lies ahead on this side. The ground seems so dry that it might turn into powder and blow away at any time. Emerging from the hills, a single straight line, many miles long shoots through the dessert floor, here called the Big Smoky Valley, heading unperturbed for the next gap in the mountains to the west, an equally smoky set of mountains, the Toyabee Range. The profile ends at a a low point on that road.

Dayride

PARTIALLY PAVED / UNPAVED

(< Little Antelope Summit | FR002 Toiyabe Range s(u) >)
Pete's Summit , Hickison Summit : Hickison Petroglyph Recreation area > US50 east > Monitor Valley Road south > Pete's Summit > Nv376 north > US50 east > Hickison Summit > back to starting point: 80.3miles with 2360ft of climbing in 6:16hrs (VDO MC1.0 m5:13.6.18)
Notes: very hot, spoke to two more transcontinental cyclists with a blog: aridetoremember.net. But link seems no longer current.