US Hill summit

US Hill summit connects the dessert scenery of the Rio Grande Valley south of Taos with a high, bowl shaped valley in the Sange de Cristo Mountains. The higher approach leads up from the Rio Grande drainage. The small side belongs to a green valley near the Picuris Pueblo, where several other such lop sided summits converge. The scenery along the ride is evergreen forest most of the way, except the part where the route dumps the cyclist into the dessert surrounding the Rio Grande gorge. The most interesting feature during my last traversal were the elaborate memorials to the dead, visible from the roadside, and much more clearly visible form a bicycle than from a car, in my opinion. The summit is identified in the appendix of Marshall Sprague's book "the Great Gates".

1.(7790ft,mile00) START-END SOUTH: jct NM75-NM518
2.(8542ft,mile04) TOP: US Hill Summit
3.(7610ft,mile08) FR439 joins on right
4.(7410ft,mile10) FR438 joins on right
5.(7100ft,mile14) FR437 joins on right
6.(7040ft,mile15) START-END NORTH: Talpa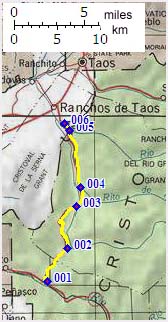 Approaches
From South. The profile begins where Holman Hill summit ends, a junction of three roads and an abandoned bridge. US Hill starts climbing into a crease in the landscape. The scenery is pleasant trees, but rather eventless, with at last a meadow approaching the top. The road heading west from the summit makes an interesting MTB ride.
From North. (described downwards) Immediately after the summit a large dirt parking lot beckons to stop and look at the scenery. But the Sangre de Cristo Mountains are still largely obscured by trees. There is a better spot further down. Many miles further down something mysterious happens. Shortly after the junction with FR438 the road becomes signed as bicycle route, marked by extremely high signs. The luxurious shoulder, very rare for New Mexico standards, continues all the way to Talpa.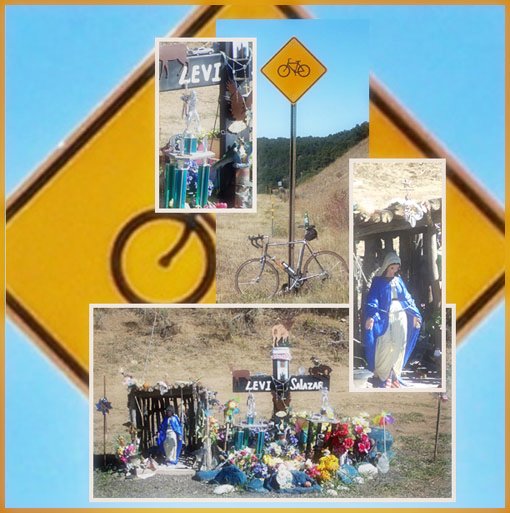 Dayrides with this point as highest summit point:

PARTIALLY PAVED / UNPAVED

( < FR639 Truchas Peaks s(u) | NM4 Valle Caldera s(u) > )

US Hill Summit x2 , NM76 Trampas - Chamisal s(u) : several miles west of Rio Lucio along NM75 > NM75 west > outskirts of Dixon > NM580 east > CR69 east > Ojo Sarco > NM76 north > Las Trampas > NM76 Trampas - Chamisal > Chamisal > jct with NM75 <> out and back NM75 east > Penasco > Us Hill Summit <> turnaround point 650ft below summit at jct with FR273 >> Rio Lucio > back to starting point along NM75: 58.2miles with 5590ft of climbing in 5:29hrs (garmin etrex30 r4:21.6.7).
Notes: turnaround point on north side of US Hill Summit chosen for still bearable temperature on this very warm June day.

A Dayride with this point as intermediate summit is on page: Holman Hill Summit