Red River Pass s(u)

Red River Pass was the highway crossing over the Sangre de Cristo Mountains before it was replaced by
Bobcat Pass
. Considering how close the two passes are, the differences are amazing. Seeing the shelf road across the top of Red River Pass, it becomes clear that Bobcat Pass must be easier to maintain in winter.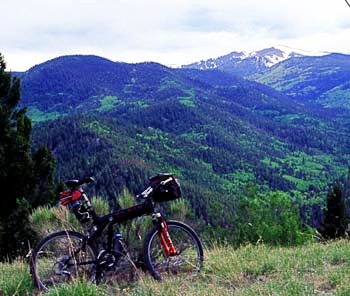 Looking on a map, there are actually four roads that meet on top of Red River Pass. But looking at it in reality, two of these roads are private roads. Using the two public approaches, the route actually reach a higher elevation than the pass itself on the eastern approach to the pass. This new approach connects to the top of Bobcat Pass. The original eastern approach of the old Red River Pass highway is now on gated private land.
The two public road approaches can be made into a short 2 to 3 hour loop ride from Red River, and that is the only part shown on the profile. The lower approaches on each side are on the
Bobcat Pass
profile.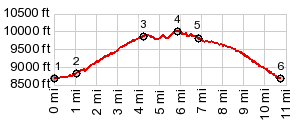 1. START-END WEST-1: jct NM578 - NM38, east side of Red River
2. profile turns left onto FR488 up Red River Pass
3. 9840ft - Red River Pass
4. 10000ft - Red River Pass s(u)
5. profile joins NM38 at Bobcat Pass
6. START-END WEST-2: same as point 1

Approaches
From West. On the western edge of Red River the road to Bobcat Pass starts getting steeper. But NM38 towards "Bull of the Woods" continues going through the woods like a cow, rather than a bull. That is the way the profile goes. The jct to Red River Pass Road onto FR488 is actually signed.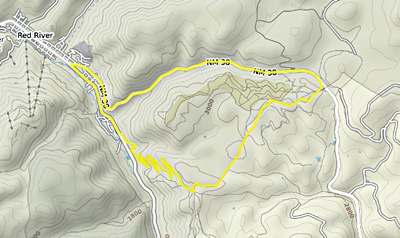 A steep set of switchbacks winds up the side of the mountain with ever improving views onto a shoulder of Mount Wheeler and to old Bull of the Woods Road below. The road reaches a junction with two other gated roads at what looks like a pass. During my first visit there was a sign here naming this "Old Red River Pass" complete with elevation. During my last visit this was no longer here.

The public option makes a 90 degree left turn and continues to thread between fences and no trespassing signs. At another forced 90 degree turn in the forest, a sign reads "dead end". This is clearly a lie. The road goes through. The road is now a not-too-rough jeep trail, better mountain bike territory than gravel bike. Two more unsigned junctions make the route a little confusing. I stayed right (that is uphill) on the first one, left or downhill on the second. But I suspect they all reach NM578. The highest point is somewhere on this forested route.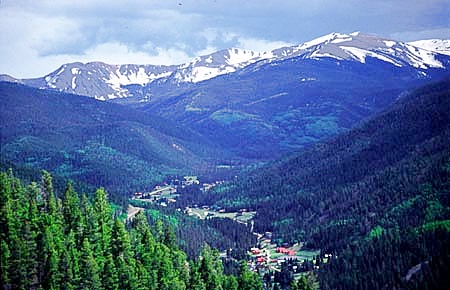 From East. (described downwards) A short decent leads to what looks like a ranch. This is one of those typical anxious moments of mountain biking in America. Are there gates ? Is there a narrow strip of private land between here and the highway visible closeby on my gps ? Actually the ranch itself is not a ranch but the ATV rental place on top of Bobcat Pass, and the bike is on pavement before realizing where I actually am. The profile continues on NM38 back down to Red River

Dayrides with this point as highest summit:

( < Bobcat Pass | US64 Tres Piedras - Tierra Amarilla s(u) > )

Red River Pass s(u) , additional out and back : a short distance up FR488 towards Red River Pass from Red River > up FR488 > Red River Pass s(u) > down public road approach > Bobcat Pass(shp) <> out and back on residental road to point of closure at about 10000ft >> Red River > up NM578 > jct with FR488 <> out and back to end of pavement <> out and backon Wheeler Rd to East Fork trailhead[unp] <> separate partial out and back on FR79 towards Bull of the Woods Trailhead >> back down NM578 > back to starting point on FR488: 28.0miles with 3340ft of climbing in 3:46hrs (garmin etrex30 m5:21.5.22)
Notes: includes some slow walking around Red River to wait out a thunderstorm, and also early turnaround on FR69 due to rain, hail and thunder.

( | Taos Boundary Trail s(u) > )

Red River Pass , Osha Pass , additional out and back: Taos area > US64 west > Valle Escondido > a variety of confusing logging roads towards Osha Pass > Osha Pass > more confusing tracks down the west side > Angelfire > US64 north > Eagles Nest > Bobcat Pass(shp) > forest road east > Red River Pass > down FR488 <> out and back up NM578 to Bull of Woods area, looking for a connection to Rio Hondo Canyon to Taos >> Red River > down NM38 > Questa > NM522 south > back to starting point in Taos area: 110miles with 8210ft of climbing in 9:5hours (r3:5.6.10)
Notes: The planned route would have been much shorter. My old version of "The Roads of New Mexico Atlas" by Shearer Publishing, plainly shows a road connection between "Bull of the Woods" and the Taos Ski area Hondo Canyon to Taos. This doesn't exist and talking to people in the area convinced me it would be best to go back on the much longer road through Questa. I think there is still a trail connection, which i would like to check out sometime.