NM126 Fenton HIll s(u)

This is one of three wooded summits on a a long and lonesome road through New Mexico forest land, connecting the Jemez Pueblo area with Cuba. Of course there is an easier way to connect these two towns by staying in the valley on US550. Alternatively, in combination with NM4 Valle Calderas s(u), you could look at NM126 as 4 forested summits across the Jemez Mountains.

Approaches

From North. short, eventless climb from turnoff to Fenton Lake State Park.
From South. (described downwards). After the gentle summit there is an unmarked turnoff to an overlook which imparts an impression of the valley below.

Several hundred feet down, dirt roads divert in both directions at once. The one on the left goes to a trailhead on the San Antonio River, leading to a Hot Spring. On the remaining decent a NM forest campground has water.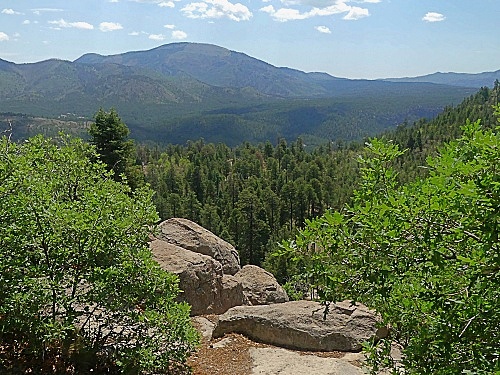 Dayride with this point as highest summit:


( <
NM126 Fenton Lake - Deer Lake s(u)
|
FR578 Hermosa Park Rd s(u)
> )
NM126 Fenton Hill s(u) x2, additional out and back:
a short distance on NM126 past end of pavement > NM126 south > NM126 Fenton Hill s(u) <> out and back on unmarked closed road to San Antonio Hot Springs trailhead >> NM126 south << turnaround point at jct with NM4 > back over Fenton Hill s(u) > back to starting point on NM126: 39.3 miles with 3200ft of climbing in 4:16hrs (garmin etrex30 m5:21.6.19).
Notes: much too hot . Usually i don't include pictures of points that are not on the profile. But this is an ecception. On this long hot weekend day, I actually saw several mountain bikers here, on this sidetrip to San Antonio Hot Spring - amongst them a family covering at least 3 generations ... while at the same time, several males hiked there naked. This strikes me as complete cultural insensitivity.The first subject was definitely more photogenic. - The drop to the river for that sidetrip does not constitute a separate summit ... less than 300ft elevation gain.