FR222 Petaca(sh)

This is a completely unremarkable summit in the woods of Tusas Ridge, south of Tres Piedras. The interesting thing about the loop has nothing to do with the summit, and it is something uniquely New Mexican. The road passes through two remote decaying villages and their cemeteries, which can be an interesting photographic subject.


1.START-END SOUTH-1:creek crossing just north of jct US285 - NM111
2.profile turns left onto FR222
3.TOP: FR222 Petaca(sh) -8600ft
4.turnoff to Las Tablas cemeteru\y
5.Petaca
6.Madera
7.START-END SOUTH-2:sane point as SOUTH-1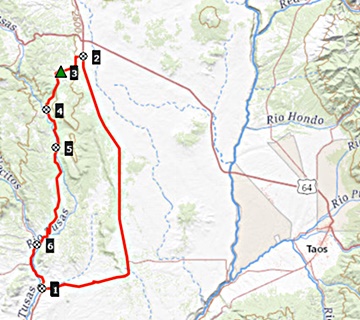 Approaches

From South. The first part of the long shallow ascent was really the end of my ride, a kind of long torture to get back to the starting point. I don't take the term "monotonous" lightly, but I think it might apply to US285 climbing up from La Madera. There is one single sharp 90 degree change of direction. As an aside, even if monotonous, it can still be interesting.

FR222 turns off US285 a short distance before reaching Tres Piedras. It passes a few ramshackle trailers and after a short climb crests unceremoniously in the forest. At the top an unpaved track leads higher in both directions, the Tusas Ridge Rd.

From North. The picture below is the cemetery in Las Tablas - no live people, but I encountered plenty of dogs. The next town, Petaca shows a few more signs of live.

Soon after that the road turns paved and a reasonably scenic ravine descendes to La Madera. A dog there bit me. I would still call him friendly compared to Mexican and Latin American dogs. Since then I carry more rocks on the bike before entering New Mexico towns ... one more picture of a memorial in the middle of the woods after that.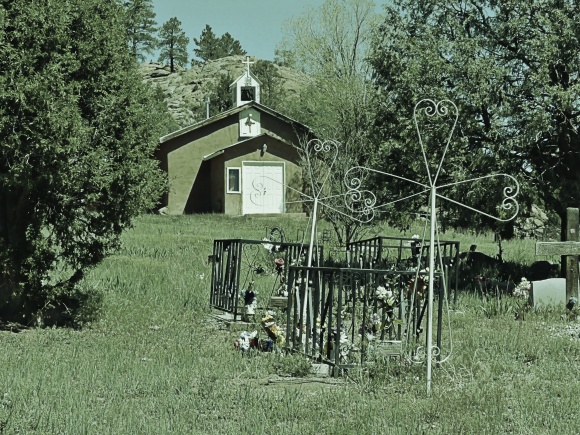 Dayride with this point as highest summit:


( <
US64 Tres Piedras s(u)
|
NM76 Truchas s(u)
> )
FR222 Petaca s(u) :
3/4 mile west of Tres Piedras > Tres Piedras > US285 south > FR222 west > Las Tablas > Petaca > South Petaca > NM519 south > La Madera > NM111 south > US285 north > back to starting point, 3/4 miles west of Tres Piedras: 62.2miles with 3390ft of climbing in 5:40hrs (garmin etrex30 m5:21.6.27)