Loristica campground s(u)

This is a dead end road to a closed campground and trailhead, high in the Lost River Range, one of the major fault block ranges in dry Central Idaho - the best part of Idaho, as far as I am concerned. The north side has only a small out-and-back descend, yet big enough for me to call it a two way summit here. - great views and fast biking conditions, suitable for a gravel bike.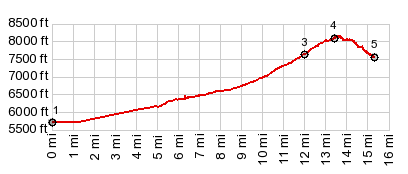 1.START-END SOUTH: signed turnoff on US93 to Pass Creek Summit
2.route enters National Forest
3.Pass Creek Summit, profile turns left
4.TOP: 8120ft Loristica campground s(u)
5.START-END NORTH: end of road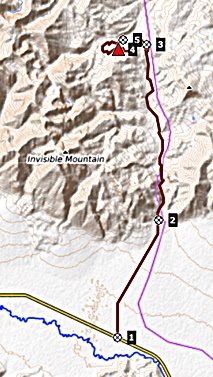 Approaches

From North. The profile includes the entire western approach to Pass Creek Summit. At the exact top an equally good road keeps on climbing steeply towards the peaks on the north side of the pass. The road passes two excellent view points, then enters the forest. From the top you can see the tops of Invisible Mountain and/or its neighbors framed by the tall pine timber


From South. (described downwards). Loristica campground is apparently for groups only, and when I was there the gates were locked. A little further down is the trailhead for Long Lost Wet Creek Trail. It climbs towards the peaks to the east, but is so indistinct, that it is better to follow your own route. The road itself deteriorates a little and descends to the creek, where it appears to end. Judging by the size of the barriers this is the site of a major land ownership battle. The trail continues on public land for a little while longer. From the last fences and barriers you can make out a road, that connects back to the Pass Creek Summit Road. But for all practical purposes the route ends here.

cLiCk on image , arrows , or thumbnails to advance slideshow

Dayride with this point as highest summit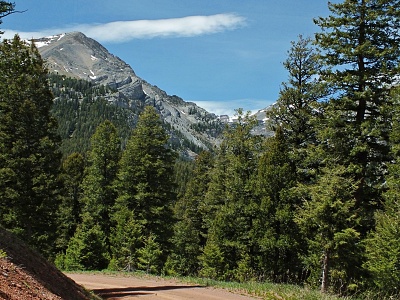 ( <
Craters of the Moon NM s(u)
|
Corral Creek Summit
> )
Loristicia campground s(u) x2 , Pass Creek Summit :
a short distance up Pass Creek Summit Rd <> out and back down the road to National Forest boundary > up Pass Creek Summit Rd > Pass Creek Summit(shp) <> out and back up Loristicia campground rd > Loristica campground s(u) x2 << turnaround point at end of road >> down east side of Pass Creek Summit << turnaround point at jct with Dry Creek Rd to Patterson > back over Pass Creek Summit west > back to starting point : 43.0miles with 4260ft of climbing in 4:51hrs (garmin etrex30 m3:20.6.11, t20_06)