Corral Creek Summit

This road summit does not go through the major mountain attraction in this area, the Lost River Range. But it does have the perfect view onto them. Most of this road is quite smooth, with one exception noted below.


1.START-END NORTH:jct Old Chilly Rd - Trail Creek Rd
2.profile turns left onto Wild Horse Creek Rd
3.profile turns left onto Copper Basin Rd
4.profile turns left onto Burma Rd
5.TOP:8733ft, Corral Creek Summit
6.START-END SOUTH: jct Burma Rd - 4800N Rd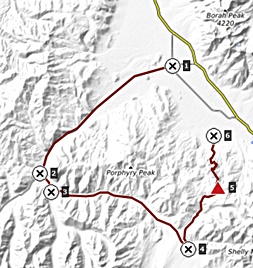 Approaches

From West. Trail Creek Rd ( going also to Trail Creek Summit ) is paved all the way to the jct with East Fork Rd. It contains hardly the slightest hint of a bend. It has one view that changes ever so slightly as you progress up the road, and it is a great view.But it is in the back. The biggest, most exposed peaks of the Lost River Range slowly become smaller, compared to their surroundings, and take their place in the sage landscape.

Turning in an easterly direction onto East Fork Rd, another peak is asking for attention, this time in front. It turns out to be Hyndman Peak (12009ft). But it turns out to be up the Wild Horse Basin Rd. Instead this profile soon takes a left, but stays on FR135. The road now follows a medium sized valley that eventually widens out into a full sized sage plain, ringed by mountains, a park, called Copper Basin.

The road keeps on climbing and eventually the turnoff onto Burma Rd comes into sight. It is signed. A long shallow traverse heads back in a northerly direction, with steadily improving views on all the mountains delimiting Copper Basin, including Big Black Dome, which seems to play the center part in most of my photos on this stretch. It always looks like the road is about to crest. But it does not - at least four times. In the end the road uses two reasonably tight switchbacks to gain the top of a vast green sage wave. During this last stretch the Lost River Range appears for the first time on the climb.

At the top short spurs in both directions lead to points with even more encompassing views. Many pictures on this page are from the eastern point.

Slideshow of Eastern Approach

cLiCk on image , arrows , or thumbnails to advance slideshow
From East. (described downwards). This side is not only steeper, it also is a little rougher. I would describe it as medium gravelly, but not rocky. My Klein Mantra hardly notices these finer differences. The road is a long travers, heading north with a permanent view of the main attraction, the best fault block range of them all, the Lost River Range. At the bottom there is even a sign, naming and pointing up Corral Creek Summit. It is situated reasonably close to the actual turnoff (although it can be confusing) and faces one direction only. The last bottom 1/2 mile of Burma Rd has a hard rock matrix and is bumpier than any of the rest of the loop. If coming up this way, this definitely gives the wrong impression of the route. It almost seems, that this is supposed to impart a wrong impression, what the rest of the road is concerned.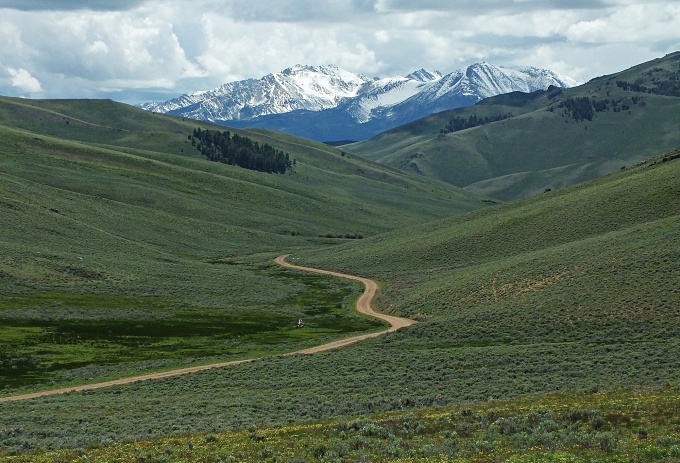 Dayride with this point as highest summit:

( < Loristica campground s(u) | Doublespring Pass > )

Corral Creek Summit: several miles up Trail Creek Rd > up Trail Creek Rd > FR135 East Fork Rd east > FR142 Burma Rd north > Corral Creek Summit > N5480W Rd north > 5500W Rd north > Old Chilly Rd north > Trail Creek Rd west back to starting point: 60.7miles with 3270ft of climbing in 6:12hrs (garmin etrex30: m3:20.6.20, t20_09).
Notes: after a day of snow in the second June half, came this day of absolutely splendid light onto a fresh coat of snow with perfect temperatures. - So different from another trip in this area, same month but so hot I could barely get motivated to do anything outside.

Slideshow of summit and western approach


cLiCk on image , arrows , or thumbnails to advance slideshow