Pass Creek Summit

The Lost River Range is breached by two major gaps. Both contain good all weather dirt roads, easily negotiated on a gravel bike. This one is lower of the two, by about 700ft. The lower parts on both approaches are a little more heavily graveled, while the section over the top is a perfect surface for any bike with reasonably sturdy tires. But the major attraction along the way is the scenery, a wide sage dessert valley on the east side, and a narrow incised canyon on the lower west side.


1.START-END SOUTH: signed turnoff on US93 to Pass Creek Summit
2.route enters National Forest
3.TOP: 7641ft, Pass Creek Summit
4.upper jct between roads, heading north towards Patterson, and south towards Goldberg in Pahsimeroi Valley
5.START END NORTH: jct Pass Creek Rd - Little Lost River Hwy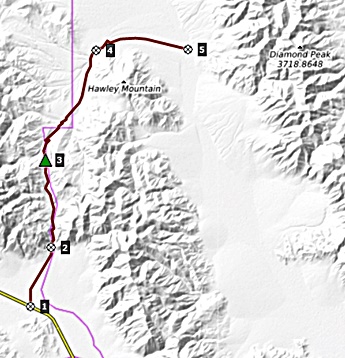 Approaches

From North. The striking thing about the Big Lost River Valley, or at least this part of it, is that it has a flat bottom. It must rain much more here than in the surrounding alluvial fan country to the north. Consequently the profile does not start in the center of the valley, Mackay, but at the Challis National Forest boundary, which is practically at the same elevation.

The initial part of the road goes through a narrow incised canyon. After that, the valley becomes much wider, but is still defined by cliffs on each side. Two switchbacks is all it takes to propel the road to the sage covered top. From here a road to Loristica campground climbs higher to the north.

From South. (described downwards). Again there are just two wide curves, before the road becomes a long bowing alley, aiming for the north of the outstanding landmark on this side, Diamond Peak in the Lemhi Range. This side is visibly much drier and trees soon become a figment of memory, Given the right light conditions, they might only obscure the many fascinating views onto the Lemhi range. The road eventually splits into two, one for Patterson and point north in the Little Lost River Valley, the other for points south. Both roads taken together as a loop, still have enough climbing to make this a shoulder summit.

cLiCk on image , arrows , or thumbnails to advance slideshow