FR28 Williams Lake Rd s(u)

This short climb is just a little longer than it may seem, while first looking at it on the map, The reason are the thousands of degrees of curvature, negotiated by the approaches. The summit is not so far away from the canyon of the Salmon (measuring air distance). Some good views of a side canyon and the Beaverhead Range are possible.


1.START-END EAST-1:Shoop Bridge at jct US993 - Williams Creek Rd
2.profile turns left from Williams Creek Rd onto Williams Lake Rd
3.profile turns stays right onto FR28 to a BLM campground
4.TOP,7570ft: FR28 Williams Lake s(u)
5.profile joins Williams Lake Rd going downhill
6.START-END EAST-2: same as point 2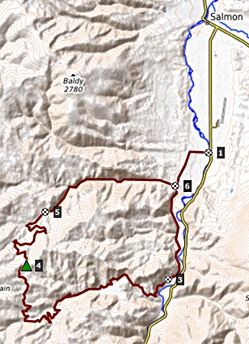 Approaches

From South. When traveling between Challis and Salmon, following the impressive beauty of the Salmon River Canyon, this only happens once: You glance across the river, and see a uniform road grade carved all the way, to what appears to be the edge of a plateau. That's the beginning of this climb. At Shoop Bridge you can finally cross the Salmon and a paved road retraces the way along US93, but on the other side of the river. A uniform grade on a hard medalled road then climbs 1000ft, more or less, and then directs its way into the plateau for more climbing.

Before reaching Williams Lake, the profile takes a signed right onto FR28, also the direction of the BLM Lake Williams Campground and lake access. Crossing an intermediate high point along the lake, the road then decents to the creek, feeding the lake.

From here to the summit does not look like much on the map. But this road traces back into every nook and cranny of the now forested slopescape. Most of the way is on very smooth hard packed surface. Approaching the top it gets a little rockier. At the top, a steep two minute out-and-back walk leads onto a bare knoll with a nice view in most directions. Many of the pictures are taken from there.

From North. (described downwards) But the nicest views, in my opinion, are on the upper decent on this side. Rocks turned on edge, about to be traversed on the way down are in the foreground: the canyon of Williams Creek. Behind that: snow covered peaks of the Beaverhead Range along the boundary line with Montana.

Again the top section of the road is somewhat rocky, giving way quickly to a fast comfortable roll down the 1000s of degrees of curvature.

When the road meets Williams Creek road, the rest of the decent is on a fast well maintained hard medalled road. The approach meets the southern approach some distance above Shoop bridge.

cLiCk on image , arrows , or thumbnails to advance slideshow
Dayride with this point as highest summit:

PARTIALLY PAVED / UPAVED
( <
Morgan Summit
|
Williams Creek Summit
> )
FR28 Williams Lake Rd s(u) , additional out and back:
on FR28, a short distance above Williams Lake > up FR28 > FR28 Williams Lake Rd s(u) > down Williams Creek Rd << turnaround at Shoop bridge, jct with US93 > up Williams Creek Rd > up Williams Lake Rd > up FR28 > back to starting point on FR28: 36.4miles with 4250ft of climbing in 4:08hrs (garmin etrex30: m3:20.6.25)