Morgan Creek Summit

This summit in the Salmon River Mountains looks very different from the canyon scenery, that the river at the orgin of the name has left below. This is a fairly generic forest hills ride. A sign at the top refers to this point as Morgan Summit, while maps label it Morgan Creek Summit. No signs on the approaches use either designation.


1.START-END SOUTH:jct US93 - Morgan Creek Rd
2.campground at First Crossing Gulch
3.TOP,7595ft: Morgan Creek Summit
4.jct with Yellowjacked Rd on left
5..jct with Muscgrove Creek Rd on left
6,START-END NORTH:jct Blackbird Creek Rd - Panther Creek Rd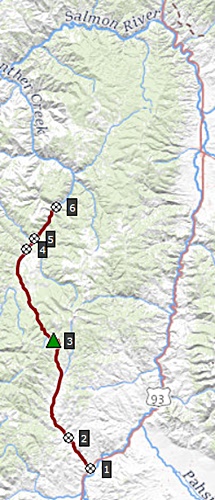 Approaches

From South. The most interesting part for me is the lowest part of Morgan Creek Road on this side. A good hard medalled road leads through a rocky narrow incised canyon. The other things lining the road consist of trailer wreckage. After emerging from this first narrow section a BLM recreation area on the left is a great place to stay after the ride.

Grassy hills lead to another canyon section. The climb is shallow and steady. A single triangular mountain top in the distance still has a minor remnant of snow above treeline. But it turns out to not be nowhere near this road. The last part of Morgan Creek is in the trees and steeper. There are no views from the top. The road, branching off the summit and continuing its climb, also continues to carry the name Morgan Creek. It is quite a bit rougher and narrower.

From North. (described downwards). The road on this side is named "Panther Creek Rd". This is a fairly nondescript descent in shallow forested hills. The surface on this side is worse. At the jct with Silver Creek Rd a number of particularly neglected dwellings line the road, in the middle of what looks like a slash and burn landscape. From here the Salmon River is still over 30 miles away.


Dayride with this point as highest summit
COMPLETELY UNPAVED
( <
Doublespring Pass
|
FR28 Williams Lake Rd s(u)
> )
Morgan Summit x2:
Morgan Creek Rec area <> up Morgan Creek Rd <> Morgan Creek Summit <>. short separate out and back from the top, a little distance continuing up Morgan Creek Rd towards a signed trailhead <> down Panther Creek Rd << turnaround a short distance past jct with Silver Creek Rd: 47.8miles with 3820ft of climbing in 4:36hrs (garmin etrex30 m3:20.6.24)
Notes: very hot on the way out and a touch of rain on the way back - scenically not nearly as exciting as the previous rides along the Lost River Range