Danish Pass

This pass is a very ridable great workout in the hills of the Bear River Range, a good distance east of its picturesque crest, even if there is not that much interesting scenery along the way.


1.START-END WEST:jct Logan Canyon - Franklin Basin Rd
2.profile turns right onto FR415
3.TOP,8520ft
4.profile turns left towards Bear Lake
5.FR411 Egan Basin Rd s(u), 8500ft
6.START-END EAST:jct FR411 Green Canyon Rd - Main Street in St Charles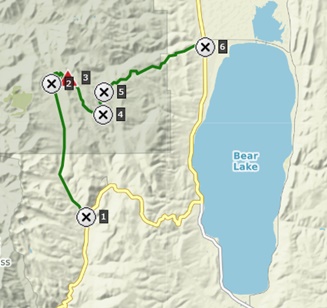 Approaches

From West. The strictly increasing elevation profile on this side would go up from Preston up Hilyard Canyon. But that is partially a very rough, torn up ATV track. It is so much easier, pleasant and scenic to come up from Utah over FR406 Franklin Basin Rd. The profile crosses that wide summit valley, eroded by the Logan River, and that is probably the most scenic point of this whole ride. The road descends less than 300ft on the Idaho side, and then a very ridable forest road climbs up higher to cross over into Egan Basin.

There really are no further views. From the top you can quickly walk up a bare knoll, but it does not deliver any views across the ridge to the east.

From South. The high shallow valley on this side is called Egan Basin. The surface is a little slower than on the Franklin Basin side. A very well signed intersection of a total of 4 roads gives the opportunity to ride to a airplane wreck, climb over FR411 to Bear Lake , or continue straight back to US89 along Logan Canyon.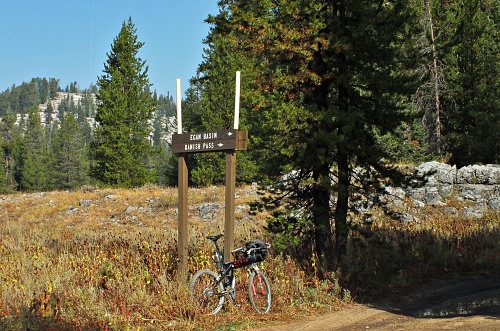 Dayride with this point as highest summit:
PARTIALLY PAVED / UNPAVED
( <
FR406 Franklin Basin Rd(sh)
|
Wild Horse Loop s(u)
> )
Danish Pass , FR411 Egan Basin , Bear Lake Summit :
near jct FR406 Franklin Basin Rd - US89 Logan Canyon > up FR406 > FR406 Franklin Basin Rd(shp) > FR415 west > Danish Pass > down FR411 Green Canyon Rd > St Charles > US89 south > Fish Haven > Garden City > US89 west > Bear Lake Summit > back to starting point near jct FR406 - US89: 57.8miles with 4780ft of climbing in 6:07hrs (garmin etrex30 m3:20.9.20)
Notes: after the season of heat and smoke comes the season of cool temperatures and smoke