Brushy Fork - Spruce Creek Divide

This area of the Bitterroot Range is a sprawling green forest, with rocky outcrops, poking their heads above treeline, like crests of waves in a storm. And you never know, when you are going to come upon one of these crests, and when you will be crawling through the trees the entire day.

There are a few views along this summit, but they are sparse, and to be enjoyed when visible, which is not very long. The north side has an excellent hard surface perfect for a gravel bike, the other side not so much. ATVs are not permitted on this road, even though I saw two anyway. But all in all, it is a very quiet ride with barely a car, once you get over ~5 miles away from US12.


1.START-END NORTH EAST -1: jct US12 - Elk Meadows Rd
2.road crosses from Montana into Idaho
3.TOP: 6480ft
4.low point at jct Brush Fork Rd - Elk Meadows Rd: 4750ft
5.FR373 Spruce Creek Rd(sh) :5560ft
6.profile turns left onto US12 at Lolo Pass
7.START-END NORTH EAST-2: same as point 1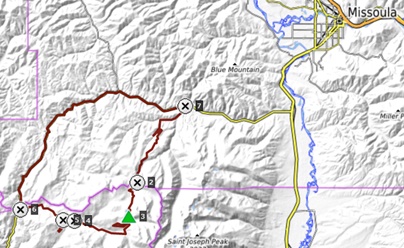 Approaches

From North. The profile starts at a dirt road turnoff from US12 in Montana, signed Elk Meadows Road. A good, mostly hard medalled road climbs steeply through the forest. I encountered maybe a dozen cars along the way, all of them huckleberry pickers. There is even something resembling a break in the trees and a reasonable view onto some bare rocks as the road seems to reach a pass on the Montana - Idaho line. But the curving descent is only short before the road climbs again to a small wooded plateau. A sign informs that you are about to cross the Brushy Fork - Spruce Creek Divide. The true highest point comes a short distance after that.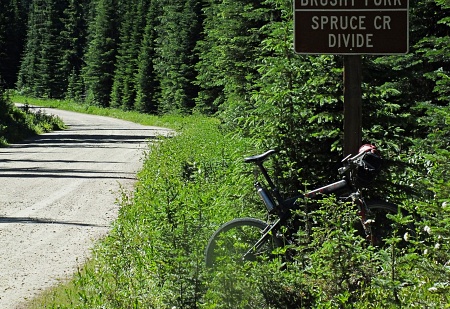 From South. A sliver of white capped mountain behind the next obscuring ridge has been hiding behind the trees, during that short descend from the state line. Now the road comes to an edge of this small plateau and reveals the view. Still - the higher peaks are mostly hidden from view. They are behind this carpet of forest fire matchsticks and beetle kill rot. The long, straight traverse down to Spruce Creek is real tour of this burn area. The road passes numerous turnoffs to now abandoned forest roads. It reaches a low point before climbing again towards the FR373 Spruce Creek summit This side has a rougher surface and much deeper gravel than the north side, and I think a mountain bike works better than a gravel bike.

cLiCk on image , arrows , or thumbnails to advance slideshow
Dayride with this point as highest summit
( <
FR5621 Como Lake s(u)
|
FR595 Lolo Pass - Granite Pass
> )
Brushy Fork - Spruce Creek Divide , FR373 Spruce Creek(sh) , Lolo Pass:
several miles up FR451 Elk Meadows Rd > up Fr451 > Brushy Fork - Spruce Creek Divide > FR373 west > FR373 Spruce Creek Rd s(u) > Lolo Pass <> out and back down west side of Lolo Pass to a turnaround point at the jct of a closed forest road at4740ft >> US12 east > back up FR451 to starting point: 66.1miles with 4610ft of climbing in 5:45hrs (garmin etrex30 m3:20.7.21)
Notes: comfortable start and hot return