FR5621 Lake Como

I'm guessing, somebody really liked this lake and also Lake Como in Italy. So somebody named this one after the other. There is really not much resemblance. But they are both beautiful in their own way. One thing they have in common is, that they are both surrounded by some spectacular mountains.


1.START-END NORTH:jct US93 - Lost Horse Rd, south of Hamilton
2.profile turns left onto FR5621
3.TOP:4760ft: FR5621 Como Lake s(u)
4.south end of dam on Como Lake
5.START-END SOUTH:jct US93 - Como Lake Rd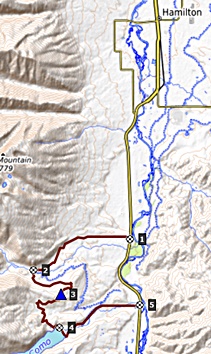 Approaches

From North. The turnoff up Lost Horse Rd is signed and the miles until reaching the mountain front are paved. Inside the forest boundary a jct leads up a shallow ever-so-curvy road to the top of a forested traverse. If you try really hard, you can see the more interesting peaks around Trapper Peak to the north through the trees. But the view from Lake Como is so much nicer and more more comfortable to see.

From South. The decent to the lake is a little rocky for a gravel bike, but perfect for my Mantra. Crossing the dam across the lake is my favorite part of this ride. From there a straight road through the forest meets US93.

Dayride with this point as highest summit:
( <
Lost Trail Rd s(u)
|
Brushy Fork - Spruce Creek Divide
> )
FR5621 Lake Como , additional out and back :
a short distance up Lost Horse Road > down Lost Horse Road > up 5621 > FR5621 Lake Como s(u) > Lake Como > across Lake Como dam > down FR550 Rock Creek > down Lake Como Rd > US93 north > Darby <> out and back to end of Trapper Meadow Rd << Mt473 south << turnaround point at jct with Connor Cutoff > Leavens Rd north <> several out and backs to dead ends in real estate development areas around views of Trapper Peak << MT473 north > US93 north > Darby with sideroad detour > Old Darby Rd north > Sleeping Child Rd north > Skalkaho Rd north > US93 south > Lost Horse Rd west back to starting point: 64.3miles with 2650ft of climbing in 5:39hrs ( garmin etrex30 m3:20.7.12
Notes: a cool, comfortable and later-cloudy day after a way-too-hot day