Beaverland Pass

This little pass is in the foothills of the Lost River Range near Arco. A little rocky in places, the compensation comes in the form of twisted limestone cliffs above, and verdant farm land below, ringed by snow capped mountains. The name of the pass is used on several signs along the way.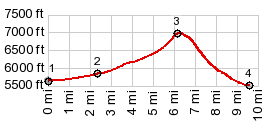 1.START-END WEST: start of Arco Pass Rd, at a dirt road jc, north east of Arco
2.route to Arco Pass goes right, profile stays left
3.TOP: 7000ft, Beaverland Pass
4.START-END WEST: low point on W33N Rd, where it crosses King Creek near Moore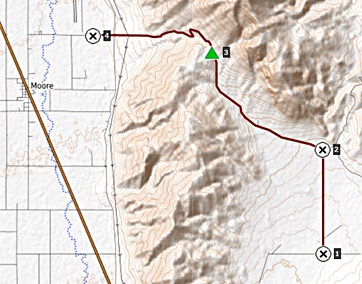 Approaches

From South. The beginning of the Arco Pass Rd is not signed from US93, and a little complicated to find. In the end, most roads south of Arco, leading to the local land fill, work, and go to an intersetion of dirt roads, where Arco Pass Rd is signed. It heads straight for a flank of King's Mountain, any structural geologist's dream. A complex overturned fold is clearly exposed in the croissant-like layer cake rocks.

Past some farm structures and an ever-so-slight bend in the road, at the bottom of the wide sage valley, the road splits twice, for destinations Arco Pass ,Woodland Canyon or Beaverland Pass. Both intersections are clearly signed. While traveling up the lower flank of King's Mountain, an out and back leads to a trailhead for a nearby arch in the limestone cliffs. You can clearly see the arch from the last intersection.But without having walked up to it and knowing what to look for, it is almost impossible to recognize it in the complex pattern of limestone cliffs.

A little further up, the road becomes rocky and steep, but then unexpectedly crests at a point, where the northern part of the Lost River Range (including Mt Borah, the highest point in Idaho), and the White Knob Mountains to the west come into view. Near the top tracks in both directions lead higher.

From North. (described downwards). ... nice views of the farmlands surrounding the Little Lost River, and the white capped mountain surrounding it. The middle section is very steep and rocky - impossible to ride up - not so bad on the way down. At the beginning of pavement a sign even points up to the pass, for travelers in the upward direction.

cLiCk on image , arrows , or thumbnails to advance slideshow
Dayride with this point as highest summit point

PARTIALLY PAVED / UNPAVED
( <
Mt Harrison(ow)
|
Arco Pass
>)
Beaverland Pass , additional out and back :
Woodland Canyon Rd , a couple of miles up from jct Woodland Cny Rd - Arco Pass Rd > down Woodland Canyon Rd > up Arco Pass Rd > up Sheep Camp Rd <> out and back almost to end of road to Natural Arch Trailhead >> up Sheep Camp Rd > Beaverland Pass > down King Canyon Rd > 3350N Rd south > W2900N Rd east > UW93 south > Arco with sightseeing detours > 2450N Rd east > 2850N Rd north > Arco Pass Rd north > back to starting point on Woodland Canyon Rd : 36.5miles with 2750ft of climbing in 4:16hrs (garmin etrex30 m3:20.6.8, t20_05)
Notes: a nice November day during the first part of June. definitely the coldest ride on this trip sofar. The day also included a hike to the end of the Natural Arch trail, halfways up Beaverland Pass.