Arco Pass


One of the most fascinating areas in Idaho for me, is the transition from the semi arid Snake River Plain to one of the great fault block ranges in the US, the Lost River Range. This pass is the southern most crossing in this range.

The road is shown on many maps, that neglect other roads of the same caliber. But stretches of the Arco Pass Rd definitely qualify as a jeep road. Still - on a mountain or gravel bike you can make good time. In spite of the relatively small approaches on both sides, there are phenomenal views of all these dessert ranges have to offer (given the right light conditions).


1.START-END WEST: start of Arco Pass Rd, at a dirt road jc, north east of Arco
2.route to Beaverland Pass goes left, profile stays right
3.TOP: 7000ft, Arco Pass
4.START-END EAST: jct Id23 - Little Lost River Hwy, Howe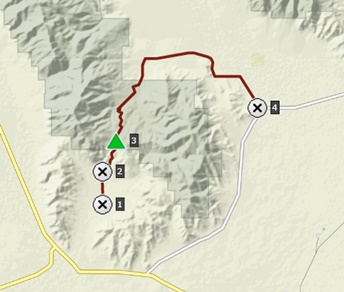 Approaches

From West. The start of the Arco Pass Rd is not signed from US20. But there is a sign at a dirt road intersection a short distance west of US20, south of Arco.

The initial miles of the road head for a flank of King Mountain (10610ft). From this side it looks like the crumbled pages of a set of books, that has been through a cycle in the washing machine. To structural geologists it looks like an irresistible puzzle. Signs at the next two intersections make sure you stay on the right path, instead of going to Woodland Canyon or Beaverland Pass. At the jct with the latter a short rocky stretch provides the first opportunity to stretch out the legs with a short walk, should you desire to do so. But all the rocky stretches are very short on this ride. It all depends on the underlying rock formation, and much of the road is very smooth and very bikable.

The next sign pointing to Arco Pass and Hurst Canyon is very confusing. It points up a little used spur. But all is not lost, this road ends soon, and the more heavily used option is now obviously the right way, no matter what the sign says. A few more wide stretched curves in the sagebrush, and the little road seems to crest below King Mountain, which has a more alpine look from this side than from the bottom. In truth this crest turns out to be a wide sage saddle. The highest point comes a little later. On the other side the Lemhi Range starts to make a first impressive appearance.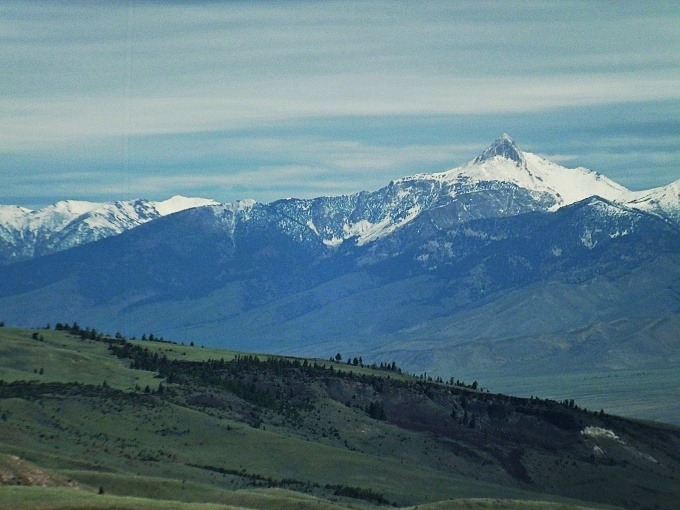 From East. (described downwards) It is only 2200 ft down to the lowest point on the valley floor. But given the right light conditions, it seems you can see forever. Along the way, Hurst Canyon turns out to be a few low lips of rock, that line a channel in the sage covered alluvial fan. Later, the road makes a few detours to head for the small town of Howe. The detours seems to follow in straight lines some sort of land ownership pattern. But with the light and weather that I had, you could justify every mile as a scenic detour on the alluvial fan. Howe itself has no businesses of any sort. But it does have a park for bring-your-own lunch.

cLiCk on image , arrows , or thumbnails to advance slideshow
Dayride with this point as highest summit:
PARTIALLY PAVED / UNPAVED
( <
Beaverland Pass
|
Craters of the Moon NM s(u)
> )
Arco Pass:
Woodland Canyon Rd , a couple of miles up from jct Woodland Cny Rd - Arco Pass Rd > down Woodland Canyon Rd > up Arco Pass Rd> Arco Pass > down Hurst Canyon > 3720N Rd east > Little Lost River Hiway south > Howe > Id33 south > US20 west > 2350N Rd east > 2850W Rd north > Arco Pass Rd north > back to starting point on Woodland Canyon Rd : 56.5miles with 3100ft of climbing in 5:48hrs (garmin etrex30 m3:20.6.9, t20_05).
Notes: perfect light, perfect temperatures, perfect day, perfect ride - except for maybe the strong headwind onthe way back, but you almost kinda have to expect that. - On the Arco Pass Rd between US20 and Howe, I encountered exactly 1 car, very close to Arco, otherwise no other vehicles.