Col de Croix de Toutes Aures

In the Vercors Plateau, often the most dramatic parts of the climb are not the highest part. This small summit has outstanding scenic views along all of its dozen kilometers. There are no signs along the road that refer to this pass by name, but signs on adjacent hiking trails do use this name, sometimes also just "Croix de Toutes Aures".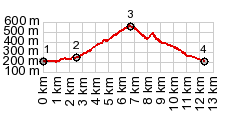 1.(00.0km,190m)START-END WEST:low point next to river la Baume, Pont en Royans
2.(02.6km240,m)profile turns away from D531 and climbs out of Gorge de la Bourne
3.(06.9km,560m)TOP: Col de Toutes Aures
4.(12.6km,190m)START-END EAST: low point near river in Pont en Royans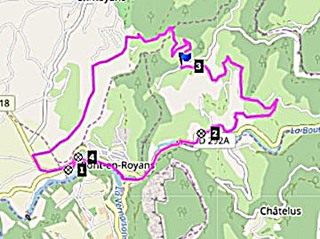 Approaches

From West. There are two possible lower approaches from the la Bourne. The profile takes the smaller and more bicycle super friendly of the two, from Rencurrel. The sign points to Presles. The climb on the narrow curvy road offers unparalleled views of the various block like cliffs encircling the Gorge de la Bourne below.

At the top most of the traffic keep on climbing the plateau to the right towards Presles. There are more summits up there, including the Col de Praletang. The left turnoff from Croix de Toutes Aures deadends at a farm.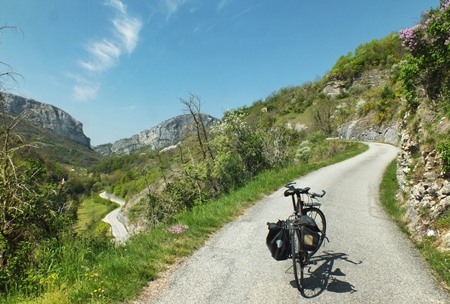 From East. (described downwards). Even less than not much traffic goes down this way and so the narrow road becomes even narrower, and the climbs, drops and waves in the surface also become more erratic. It is really just a short distance down, but the dramatic twists and turns in the miniature roadbed make it seem more impressive. I saw two mountain bikers coming up this way. These conditions end at a more conventional roadbed on D58.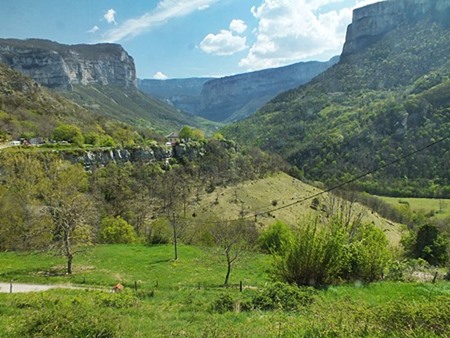 A dayride with this point as intermediate summit is on page: Col de Romeyere