Puerto de Velefique
This is not the highest pass in the Sierra de Filabres. But it certainly feels that way. It is also the most scenic climb in that range, and it has the most cyclists on it. Bikers who live here like to call it the "Iberian Passo Stelvio" and the pictures show why.
I have used the pictures of panoramio and flickr contributors, as well as other web sites to illustrate this page. There are copyright notices and links to all original pictures. My own pictures were on a computer, that was stolen at the train station Frankfurt Airport (model Acer Aspire One (serial# NUSGPAA01625101C947600F)

1.(00.0km,0430m) START-END WEST: Tabernas
2.(10.6km,0680m)road from Alto de Castro de Filabre joins from left
3.(17.5km,0950m)Velefique
4.(30.4km,1822m)TOP: Puerto de Velefique, turnoff to Tetica de Bacares
5.(42.0km,1200m)START-END EAST: upper turnoff to Bacares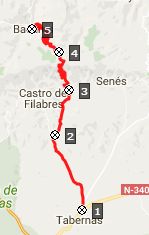 Approaches

From West. A favorite loop over three summits (this one is the highest) joins the profile at point 2. The village Velefique appears as a white line at the base of slanted green shelf. I hardly see anybody near or in the conglomeration of white boxes. But there are plenty of billboard attired cyclists passing me. The road is covered with regular stretches of chalk marks for the purpose of racing adulation.

The switchbacks work the road up this inclined blanket with a constant view of the plain below. Apparently you can make out the Mediterranean sea in the far distance from the upper portion of the road, but in my case the weather does not cooperate. But yellow wild flowers make a perfect foreground to the spaghetti road disappearing below.

Finally the road traverses along the top of a high valley towards the middle of the range. Before getting there a sign anouncing the Alto de Velefique. This is where most of bike racers turn around. Cycling traffic from here on is much lighter, and progress is faster. But the highest point is not reached until the road reaches an inconspicuous curve in a grove of trees. Here a road, as wide as a bikepath, continues a few kms further up to the transmission facility of the perfectly cone shaped Tetica Bacares
From East. (described downwards). The viewshed changes onto a maze of rounded green hills, the valley floor not yet visible. Countless dirt tracks thread through the mixture of loose forest and cultivated land. The road winds around so much, that it is easy to loose a sense of direction. My sense was, that the route turned eastward. But the map shows, that an overall northerly course is maintained.

On this portion I see a van parked next to the road. It looks like a sag wagon for cyclists, and sure enough, that's what it is. The friendly guide is waiting for the last of a group of German tourists based out of Almeria, who are cycling the same day loop as me. He offers me a banana and we congratulate each other for being able to experience this incredible day.

And actually the best part of this ride is still ahead. It lies at the bottom of this narrow valley. Bacares is more isolated than any of the other white villages on this loop. Even though they are occupying the valley bottom, the houses still seem to vie for the most strategic positions on rock outcrops over the river. Rolling through the short section with a business or two, I see two people carrying groceries, and that's it. The crossing of Rio Barrancon signals an extreme change from down to up.

Basares - Copyright Flickr Contributor sergimn piclink

Sidetrip to Tetica de Bacares

I don't see any other people at all on this out and back climb. From one of the switchbacks Bacares appears for the first time below. With a mountain bike all the tracks visible from here could keep someone busy for a lifetime. The many tracks stand in contrast to the isolation of this green mountain carpet. On the last 2 switchbacks the views disappear, as I climb into a cloud. There is not much room on top of this perfect cone shape except the antennas.

SLIDE SHOW 1: Climb to Alto de Velefique and descend into Bacares
cLiCk on image , arrows , or thumbnails to advance slideshow
Dayride with this point as highest summit:

( < Calar Alto s(u) | Cabo Cope s(u) > )
Puerto de Velfique , Collado Venta Luisa s(u) , Alto de Castro Filabres s(u) , additional out and back: Gergal > up Al4409 > Alto de Castro Filabres <> out and back to the top of Tetica de Bacares > up Al3102 > Puerto de Velefique > Bacares > Collado Venta Luis s(u) > Gergal: r5:16.4,5): computer with gps data was stolen.
Notes: This is a remarkably isolated ride for Europe. There are places to get water in Velefique and there appears to be at least one store in Bacares. But I wouldn't count on anything being open for getting food or water.

SLIDE SHOW 2: Sidetrip to the top of Tetica de Bacares
cLiCk on image , arrows , or thumbnails to advance slideshow