Cabo Cope s(u)

The regional park surrounding Cobo Cope is a respite from coastal traffic with great views, with some hiking opportunities. I have no idea where all the previous traffic disappeared to. This little summit on a coastal rockoutcrop of the Costa Blanca came as a complete surprise to me.
I have used the pictures of panoramio and flickr contributors, as well as other web sites to illustrate this page. There are copyright notices and links to all original pictures. My own pictures were on a computer, that was stolen at the train station Frankfurt Airport (model Acer Aspire One (serial# NUSGPAA01625101C947600F)

1.(00.0km,020m)START-END EAST: jct RmD14-RdD15, west of Aguilas
2.(05.4km,070m)start of narrow agricultural road in El Pozico
3.(10.2km,160m)profile joins larger road Rm20
4.(13.9km,380m)TOP: trailhead at highest elevation
5.(18.7km,180m)profile turns right on Rm-332
6.(22.7km,120m)START-END WEST: low point on R-332, some kms east of Mazarron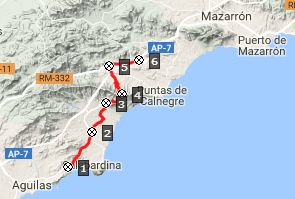 Approaches

From East. West of Aguilas fairly heavy city traffic continues into El Hornillo. While looking for a view on the Mediterranean I get lost in gigantic housing blocks overlooking a sea of concrete,. Somewhere in between this cubistic maze of high rise housing is also a Mediterranean Sea.

Several kms later, somwhere behind Todosol the traffic disappears. The profile continues on a small bumpy paved lane into an agricultural area of liberated vegetables. Here they are not confined to plastic tarp greenhouses, as I have become accustomed to seeing, but actually grow "freely" under the sky. This little road is a cutoff to the main Rm-D14. It passes a few groups of houses. A handful of them are clustered around rural intersections. Then the proifle climbs quite steeply for a short time to rejoin the main road. The main road Rm-D14 too now has so little traffic, that I am wondering if it is actually open.

At the top this is a kind of cape in the dessert, the viewshed changes from Aguilas to the Manzanarro area. There are short hiking opportunities.

From West. (described downwards). It's a short descend, but extremely curvy and enjoyable. I take many photos of abandoned brick buildings on scenic outcrops, scattered over hill and dale. There is no hint of what function they once served. Unfortunately I cannot find pictures of these on the web. Maybe I should check the flickr group "the art of decay". Unlucky for me, picturesque decaying structures are rarely uploaded with geo coordinates. Included instead are many pictures, that celebrate the view from the top of this summit, one or two also a short walking distance from the road.

The summit pictures in the slide shows have better light than the ones I took. During my visit the light was more hazy, which seems to be a common occurrence, at least during spring. My own pictures resemble the black and white photo in the slideshow - more or less. I like the foreground in that shot. Once at the bottom, I pick up the main road paralleling the 4 lane highway. The concrete maze with all that coastal traffic returns, together with a sometimes strange steet pattern. Exits to roudabouts continue in parallel for a while, as if the minimize the number of intersections, but to maximize the kms of built roads. I haven't seen this road pattern in any other country.

cLiCk on image , arrows , or thumbnails to advance slideshow
A Dayride with this point as highest summit:

COMPLETELY PAVED:

( < Puerto de Velefique | Puerto de Cabezo de la Plata > )

Cabo Cope s(u) , Rm332 Sierra de la Muela s(u): Gergal > A92 service road west > Tabernas > Sorbas > Los Gallardos > Garrucha > Puerto del Rey > San Juan de Los Terreros > Aguilas > Todosol > Cabo Cope s(u) > Mazarron > Puerto de Mazarron RM332 Sierra de la Muela s(u) > Cartagena
Notes: gps data is on stolen computer; I broke a spoke on Rd332 Sierra de la Muela and was unable to find a store to help, while spending 2 days in Cartaghena looking for one. After I finally gave up Cartaghena a one man store near Torre Pacheco fixed it while I waited. Thank You.