Alto de Castro Filabres

The remote little road over this summit in the foothills of the Sierra Filabres, is the missing link in a popular and wonderful day loop over Puerto Velefique and Collado Venta Luisa. It is the lowest of the three, but arguably the most charming. This road is a paradox. It has the most unexpectedly smooth surface (at least in 2016) and more twists and bends than any driver would reasonably put up with. - just about perfect for a great ride, with or without Velefique.

I have used the pictures of panoramio and flickr contributors, as well as other web sites to illustrate this page. There are copyright notices and links to all original pictures. My own pictures were on a computer, that was stolen at the train station Frankfurt Airport (model Acer Aspire One (serial# NUSGPAA01625101C947600F)

1.(,00.0730m) START-END EAST: A1178 heads for the hills, just west of Gergal
2.(04.7km,0940m)route stays right, left goes to Venta Luisa
3.(12.1km,1040m)lower turnoff to Olula de Castro
4.(17.9km,1250m)TOP
5.(28.2km,690m)START-END WEST: left goes to Velefique, but profile continues down to the right
6.(39.0km,0420m)START-END WEST ALT: Tabernas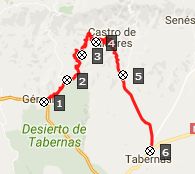 Approaches

From East. After leaving Gergal on A1178 the road starts climbing right away. Soon after the junction with the road to Venta Luisa, the trees become sparse and Olula de Castro appears. The road remains above this white housing conglomerate, so that from most angles it appears to be sheltering in a crack of the green dessert. Behind it the bare mountains are capped with a solid wall of clouds, leaving it open to the imagination what lies above. The pictures I can find have clearer weather

The road encircles Castro de Olula showing it from every angle with every background. At the top the road crosses a low outlying ridge of the Sierra Filabres and presents a new panorama on the west side.

From West. (described downwards) No trees divert from the panorama. The landforms remind me of a gaint tiretrack impression made from dried, caked mud. The road seems to joyfully swing its way down this side, not with tight switchbacks, but with wide endless meanders.

A Dayride with this point as intermediate summit is on page: Puerto de Velefique

cLiCk on image , arrows , or thumbnails to advance slideshow