Passo dell'Ampolo

A ride over Passo dell'Ampola connects two scenic lakes with yet another lake: On the west side is Lago di Garda: big, lots of toursim, spectacular scenery. On the east side is Lago d'Idro. It is quite a bit higher and more removed from the commercial tourirst world. But pensions exist. Along the way you pass Lago di Ledro, forested and lined by villages . The summit of Passlo d'Ampola itself could easily be missed if somebody didn't put a sign there.

For a skinny tire bike, the western appraoch presents a problem: a long tunnel, closed to bicycles. Mountain bikes can use the Ponale, which then becomes the most spectacular part of the entire ride. For more on the Ponale, see the
Tremalzo Pass
page

1.(80m,00.0km) START-END EAST: leaving Riva Del Garda south, profile turns onto Ponale shortly after this
2.(250m,03.2km)route turns right off Ponale road and follows path to Valle Di Ledro
3.(470m,7.4km) Pre di Ledro
4.(660m,12.3km) Mezzolago
5.(730m,18.4km) Tiamo di Sotto
6.(753m,19.6km) TOP: highest point, in Tiamo di Sopra
7.(747m,23.1km) TOP: Passo dell'Ampolo
8.(410m,32.9km[800) START-END WEST: west of Storo; jct with bike path along Fiume Chiese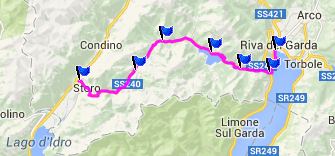 Approaches

From West. Legally it's not possible to ride a road bike on pavement only from Riva di Garda into the Ledro Valley. Due to a tunnel, "only" the Ponente is open for bicycles. This is a spectacular alternative for a mountain bike. But it is a little rough for skinny tire bikes. In practice, people have told me that they have ridden through the tunnel, more often in a downward direction. There is more info on the Ponente on the Passo Tremalzo page.

Past the tunnel bicycle traffic is again diverted from the road onto a trail in Pre. The bike trail becomes partially non paved again and also very steep and curvy in places. But by that time riding on the road is not a problem any more, and during in my case weekday traffic was very light too.

The Ledro Valley makes a very luxuriant impression on first sight. Large villas sprawl out in luxuriant dense vegetation. This pass does not give the impression of being one, just a continuous valley. Actually the highest point in the road is before you get to the official pass sign.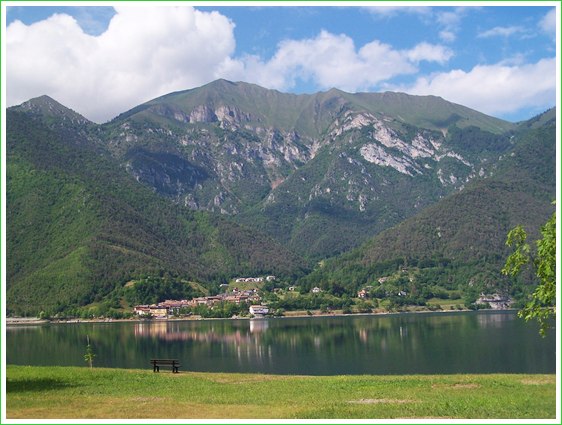 the Ledro Valley with its lake on the way to Passo d'Ampolo

From East. (described downwards). The pass itself is just a flat part of the road with the turnoff to Passo Tremalzo. From here the road rolls into the entrance of steep sided green canyon of moderate height. The canyon becomes deeper and the road uses a few tight switchbacks, that have to remain with in the limit of a narrow canyon floor to descend into Storo. That village has lots of place to spread out in this wide flat bottomed valley. In medieval fashon the houses still sit close together and plant a firm stake on the north side of the valley. The arrival in Storo was my favorite part of this pass ride. At the bottom waits a meticulously paved bike path to speed you down to Lago d'Idro.

A day on a tour with this point as intermediate summit is on page: Passo delle Maniva