Puerto de Santopilar

This is one of the highest summit points directly north of the Malaga coastal area. There are a few, that are up to a 100m higher. But they are also a little further away from the coast.


01.(00.0km,020m)START-END EAST: A7001 leaves the coast in Malaga-Este
02.(09.5km,450m)Olas: jct with another approach, slightly further east
03.(13.9km,750m)Puerto de la Bolina on left, but that road keeps climbing
04.(18.4km,850m)TOP: slightly after and higher than Puerto de Santopilar
05.(26.4km,600m)jct with first turnoff to Comares
06.(30.1km,340m)dirtroad from Comares rejoins this route
07.(32.9km,150m)route turns right at this jct; left goes to Colemar
08.(36.2km,100m)Benamargosa
09.(39.7km,070m)Trana
10.(44.7km,040m)route goes through Trapiche on A7295
11.(48.4km,030m)START-END WEST: Velez Malaga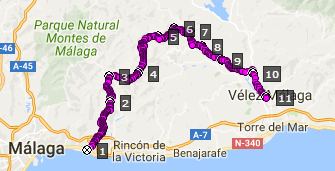 Approaches

From East. Two separate approaches start directly at the busy Mediterranean coast and head into the bare hills above. I took the one further west. After crossing A-7 it gets empty fast, just the occasional mountain biker crossing the road on one of the countless double track trails, or the other road bikers, usually in pairs.

The two approaches meet in Olias, the one and only village painted white on this side of the summit. At the junction with the nearby signed Puerta de la Bolina, this profile stays right and keeps on climbing to the west. But the road to the left, over the Puerto de Bolina keeps climbing gently past the pass also.

Back to the Puerto de Santopilar: a curvy road cut under several transmission towers, comes into view before the pass is reached. The highest point comes a little after the pass.

From West. (described downwards) On the other side the biggest bread loaf shape in the area appears in view for the first time, the Sierra de Tejeda. Too bad it is hidden by rain and clouds when I get there. But conditions improve a lot between here and the next summit, Comares s(u). Before getting to the Comares turnoff two bars/restaurants offer a possibility to escape potential, adverse climatic conditions. It is signed Ventorros.

the profile bypasses Comares, because I try to show a direct approach to the highest point. But - on a first visit - who would want to miss the biggest tourist attraction along the route ? More on the Comares s(u) page. The road winds around to present ever new viewing angles onto the Sierra de Tejeda, and finally stops its descend at a series of tables, filled with beer bottles and old men sitting around them in drunken stupor - in Benamargosa. My own route, following the "grape loop" turns back up into the hills to Alto de Cutar from here. But the profile continues the rest of the shallow descent to the coast and Velez Malaga.








Dayride with this point as highest summit:
PARTIALLY PAVED/ UNPAVED:
( < | Puerto de El Torcal > )
Puerto Santopilar , Comares s(u) , Alto de Moclinejo , Alto de Cutar ,: Malage Este > along coast west > Ma3202 north > Ma3110 north > Puerto de Bolina(shp) > Puerto de Santopilar > Comares s(u) <> out and back on a few short unpaved tracks to the north >> Ruta El Lavadero[unp] > down Ma3105 > Benamargosa > Ma3108 east > Alto de Cutar > El Borge > passing Almachar > Alto de Moclinejo > Benaigabon > Rincon de la Victoria > along coast east back to starting point in Malaga Este: 55.5miles with 7640ft of climbing in 5:56hrs (Basecamp figures from etrex30: r4:16.4.17)
Notes: the only unpaved section is a short section down from Comares s(u), which is easily bypassed