Alto de Cutar

This summit is a little lower than the one with all the tourists on the top, Comares s(u). But from the top of Comares, after being dazzled by the cloud display around El Torcal, I notice one of the less conspicuous views. It is a church below, sitting on its own private hilltop, ringed by a maze of white houses. That is the town Cutar and this pass allows a much close look.


1.(00.0km,030m)START-END EAST -1: Velez Malaga
2.(08.7km,070m)Triana
3.(12.3km,100m)Benamargosa and jct with route to Comares
4.(18.4km,340m)the village Cutar
5.(20.8km,440m)TOP: Alto de Cutar and jct with dirt road along ridge to Puerto Santopilar
6.(24.3km,279m)El Borge
7.(37.8km,030m)START-END EAST -2: route rejoins profile on east-1 side north of Velez Malaga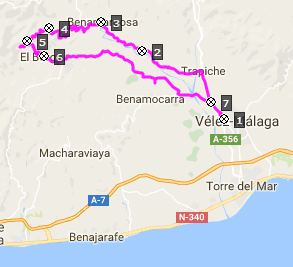 Approaches

From North. If coming down from the mountains on Sunday afternoon, and reaching groups of old men sitting around empty beer bottles in Benamargosa, it is possible to practically turn around and climb back into the hills where you just came from, just one ridge further west.

The road is signed as going to Cutar and it traces along the hillside in regular meanders, that a snake could make to propel itself forward. All of a sudden Cutar appears in picture perfect foreshortened form, one building stacked on top of one another, like a symbolic map. This map would be utter chaos if it were not for the two anchors, the church on the top, and something that looks like an arcade in the cemetery area. The yelling of children eminates from below and there are no signs of tourist businesses. This is the most authentic trip back into time along my route today. The relatively narrow empty road reaches a well defined pass soon after that. Here a concrete/unpaved track connect to the area near the top of Puerto de Santopilar.

From South. (describe downwards) The Mediterranean is visible between a series of algarve cactuses next to the road and behind several bare roof top shaped, burned green ridges. White home are sprikled on the ridges in a regular pattern, almost like patches of snow in the spring.

In Almachar my route turns up into the hills one last time. But I continued the profile down into Benamocarra and Velez Malaga to show the maximum elevation gain.


A Dayride with this point as intermediate summit is on page: Puerto de Santopilar