Mont Saleve - northern summit


Mont Saleve is the prominent 18km long, bread loaf shaped ridge south of Geneva. One paved, named pass crosses it: Col de la Croisette. Another road crosses the pass at its summit, and leads to higher summit points in both directions. This northern summit is the lower of the two, and the one with all the good views on Geneva.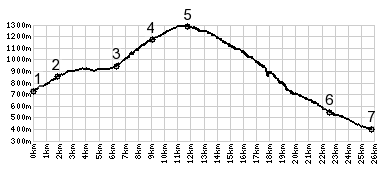 1.(730m,00.0km) START-END SOUTH ALT: small road (Route Du Moulin de Cornillon) crosses Les Usses
2.(850m,01.9km) START-END SOUTH: road crosses D15
3.(950m,06.3km)jct with D48, a more direct approach from west
4.(1175m,09.0km)Col de la Croisette(shp); profile keeps climbing towards right
5.(1275m,11.6km)TOP: Mont Saleve, northern summit
6.(550m,22.2km)jct with D15, useful for a loop ride
7.(410m,25.4km)START-END NORTH: Annemasse, next to L'Arve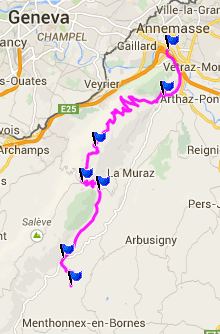 Approaches

From East. The profile climbs Col de la Croisette from the east side. This is a popular bike ride, if the presence of many riders during times of bad weather means anything. The country road gently traverses up the breadloaf from Chez. The views improve steadily, even if in my case they consist mostly of thick clouds in front of high mountains.

The last two km before the pass are somewhat steeper and involve a few switchbacks in the forest. Col de la Croisette has a small village, though I didn't check for the Mairie House and the WW1 memorial. Technically it may just be a collection of restaurants and businesses.

The profile turns right and the trees get ever scarcer, until the road reaches a high point at a picnic table and a high panorama point. According to the sign, I should be able to see a piece of Mont Blanc in the middle. On the right I should see Lac d'Annecy, where I had started the day. That part I even say during bad weather. On top of it was a triangular cloud even larger than Mt Blanc. But there was no chance of making out the Belledonne Range, or signs of the Chartreuse, areas that I had explored on my bike during the weeks before. Instead I watch Japanese tourists practice American baseball next to the road. Apparently they had some time to kill before the flight back home from the Geneva airport.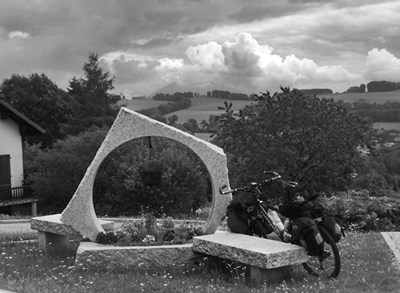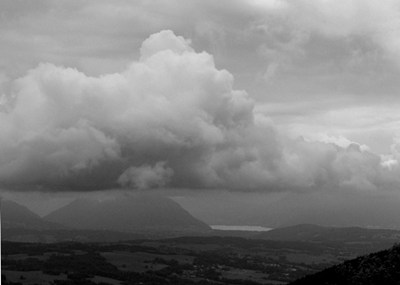 From West. (described downwards) But rolling down the first few switchbacks, there is a second viewpoint, a kind of consolation price because I lost the big one: a viewpoint over Geneva, that delivers great views even during the weather I had. Tourists pay much money to take the cable car up here. Down below the symbol of Geneva, the fountain in the Rhone, splashes water into the sky, but only the "still very far below" part of the sky. The rest of the way down consists of many switchbacks, mostly forested, and also a second viewpoint over Geneva, a little further down.

A Day on a Tour with this point as highest summit

(< D207 Aiguebelle - St Pierre de Belleville(sh) |)
Mont Saleve northern summit s(u) : Methet (near Annecy) > Vovrey en Bonnes > Cruseilles > Le Sappey > Col de la Croisette(shp) > Annemasse <> out and back test ride to Geneva airport with sight seeing detours: 55.6miles with 3950ft of climbing in 6:11hrs (Garmin Etrex30 m4:14.713)
Pictures to the right:
top: modern plant holder in old village on the northern approach, somewhere between Monnetier-Mornex and Col de la Croisette
bottom: Lac Annecy, where I started the day, barely visible under a developing thunder storm

Dayrides from the endpoint of this day are on pages:

Col du Perret
Col d'Ajon
Col des Pitons