Col de Pitons


Mont Saleve is a 18km long, mostly forested ridge south of Geneva. On a clear day the ridge is a perfect far vantage point onto Geneva as well as the western alps. This mountains has two named paved passes and one named summit. Col de Pitons is the highest of the three by a few meters. Of the three it is also the quietest spot, with the best views onto the western alps from its upper southern approach. But of course you could ride along the crest over all three summit points.

1.(640m,00.0km) START-END NORTH: jct D15-D48, north of La Muraz
2.(1175m,11.3km)Col de Croisette(shp)
3.(1335m,11.4km)TOP: Col de Pitons
4.(790m,22.5km)START-END SOUTH: north side of Cruseiles
5.(700m,28.0km)START-END SOUTH ALT: D27 bridge over Les Usses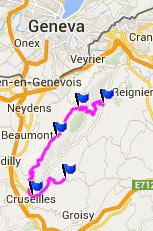 Approaches

From North. The profile climbs Col de la Croisette from the east side. Most of this approach is fairly gentle and in the forest. The last couple of km are steeper and slowly approach tree line with an open view. The pass has many buildings and businesses, that are happy to sell food and drink for copious amounts of euros.

The profile leaves all these businesses behind and turns south along the ridge. The road stays east of the crest, and in the beginning there are a few views of Lake Geneva, which form this vantage point can be seen with its length compressed. A few wide curves meander scenically above treeline - but then - even though still climbing ever so gently, the road enters forest again. And that's when you find a sign next to the road stating "Col de Pitons 1335m"

From South. There is no view from the summit, and the road stays at roughly the same elevation for maybe about 2 km. I found a particularly nice picnic bench under a shady tree for my lunch stop a few km further down, with the panoramic view from the Chartreuse to Mont Blanc onward to les Voirons. Three out of the four pictures below were taken at that spot. Past this, the long meandering descent starts gently and continues for a total of many circles of rotation to Cruseilles. Staying on the signed bike route ,the Mont Saleve boucle, the road climbs slightly again towards the north. But choose any other direction and the downhill continues. For example, the profile descends towards the west to a low point between Mt Salveve and the Plateau des Bornes

Dayride with this point as highest summit:

COMPLETELY PAVED:

Col des Pitons , Mont Saleve northern summit , Plateau des Bornes s(u) : Annemasse > Monte du Mont Saleve > Col de Croisette(shp) > Col de Pitons > Cruseilles > D278 and others west > following signs for Plateau des Bornes Sud bike route > La Chapelle Rambaud > Plateau des Bornes s(u) > La Roche sur Foron > back to starting point in Annemasse with detours: 55.4miles with 4918ft of climbing in 5:37hrs (Garmin etrex30 m4:14.7.16).

the last day with different start and end points on this tour is on page: Mont Saleve northern summit