From West. From Longarone you cross the wide braided river Piave and head north. The road climbs partially up the limestome plateau with long regular ramps. It enters a one way gallery type tunnel with a red-green interval of 8 minutes. From the gallery openings are great views downvalley of Langarone. Where the tunnel emerges, the road turns into a damned low canyon. From here a rolling hill route leads to the town of Erto. A cycling / pedestrian path before the town turns out to have a short 20 percent grade and leads to the lower part of the town, where you have to carry the bike up stairs to get back on the road, not exactly the most efficient route, but picturesque nontheless. All businesses, such as an alimentari, are in the new part of town which is above the main road. Leaving Erto the road traverses under a high cliff around a lake, enters a high valley and finds a low saddle at the end of a high valley for the descent. No ski areas, hotels or souvenir shops on top of this pass.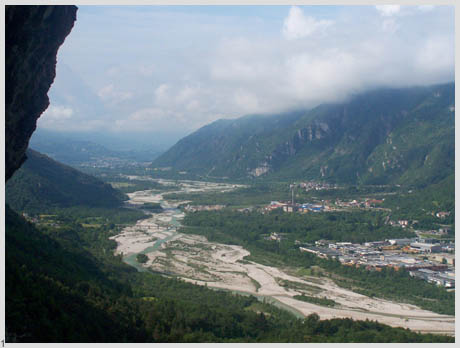 From East. (described downwards) There are a few forested switchbacks. But the road soon enters a gradually sloping valley that is as easy to ride down as it is easy on the brake pads of a fully loaded mountain bike. A long gradual descent leads through the easy going tourist town of Cimolais. Turning south the road enters a deep canyon and several long tunnels, culminating in a 3750m long tunnel with ear deafening ventilators on both ends. They are well lit and of course open to bicycles. This is a good descend in the rain. You stay dry. If already wet when entering the tunnel, the ventilors help dry out, if you can stand the noise. This last tunnel emerges on a half kilometer long, low bridge over another damned lake. A few more curves and the road reaches the southern end of the mountains in Maniago, where it becomes apparent that this is the sountern end of the dolomites.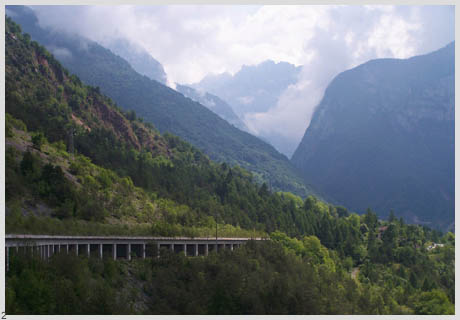 picture locations. 1: Piave river valley from tunnel gallery above Longarone 2: another gallery on the eastern side below Erto.

back to Cycling Passes in Europe