Col de Rousset

This is the only paved climb onto the top of the Vercors plateau from the south. Nearby Col de Menee also climbs an outlier of the Vercors plateau, but then immediately descends it again to the west. The road to Col de Rousset is wider, and has more traffic than many of the peaceful little paths in this area, that one can get used to. There were even some trucks. But by the afternoon I seemed to have the road to myself again in this last week of April.


1.(00.0km,0400m) START-END EAST:turnoff to Col de Rousset, on west end of Die
2.(05.3km,540m)Chamaloc
3.(20.9km,1260m)TOP:Col du Rousset, east entrance to tunnel
4.(21.6km,1210m)turnoff on left to Font d'Urle and Vasieux en Vercors
5.(34.7km,0800m)St Agnan en Vercors
6.(39.0km,0770m)START-END WEST:jct with road to les Barrangques en Vercors on left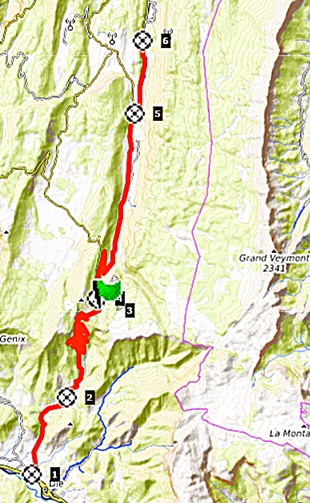 Approaches

From South. You can see this approach foreshortened into a series of long zig zags, from the valley of the Drome, downstream from Die. In reality you have to ride a while just to get to the zig zags. But the climbing starts right away after the turnoff in Die. The village Chamalac consists of a few old houses polished up new. One incongruous sight was an RV parked between narrow walls from the middle ages in front of the old church.


The long traverses work themselves up a slope, across from a large limestone cliff. Finally - a sign. The top is only a km or two away and less than a hundred meters higher. But something is wrong with this picture. There are many roadcuts above a 100 meters, and the remaining cliff also seems much higher than a 100 meters. Just before reaching it the answer appears : it's another tunnel of course. This one is 1700 meters long, well lit, and well behaved, that is to say straight as an arrow.


As for the roadcuts above the tunnel: All roads leaving from this side of the tunnel end within a km.





From North. But on the other side of the tunnel a signed turnoff leads 5km to the base of ski area parking lot. No great extra views can be earned with the climb, unless you start a hike from there.


Descending from the summit, after a km or less you have the choice to remain on this windy plateau top and head left for Vassieux en Vercors. This involves another small climb over a nondescript forested summit, almost as high as famed Col de Rousset, and marked as Col St Alexis on one of my maps.


Or you have the choice to descend into a high, long, straight valley on the plateau, with only one single zig and a zag. Down there below waits the little village Rousset clustered around its church, that gave the pass its name. Nothing in this bowling alley valley stops the wind. It seems to just use this conduit as a kind of accelerator - all the way to St Agnan.


cLiCk on image , arrows , or thumbnails to advance slideshow


Dayride with this point as highest summit:

COMPLETELY PAVED:

( < Col de Bataille | Col de Menee > )

Col de Rousset x2 , Col de St Alexis , additional out and back: Die > Col de Rousset <> out and back to ski area at the top[1] >> down north side of pass to turnaround point in St Agnan << back up north side of Col de Rousset <> out and back on D76 over Col de St Alexis > turnaround point just before entering Vassieux en Vercors << Col de Rousset > back to starting point in Die with downtown detour: 62.3m with 6187ft of climbing in 6:14hrs (garmin etrex30 r5:19.4.29)
Notes: extremely windy and as cold as any April has ever been. Col de St Alexis is only marked on one of my maps and there is no sign or other indication of this designation. The day also included a walk to the ridge from ski area[1]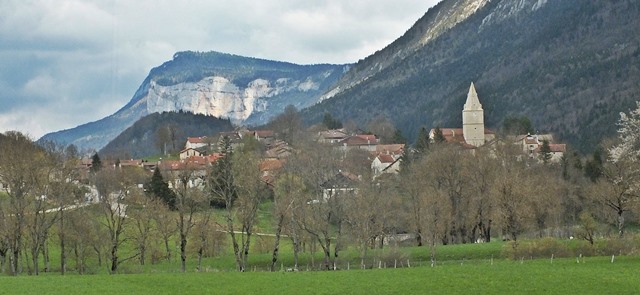 History

The tunnel - and and with that the pass, owes its existence to the ski area on top. The first beginning hotels to house skiers in this area were built in 1927 in La Chapelle and Romans. Back then skiers hiked to the top.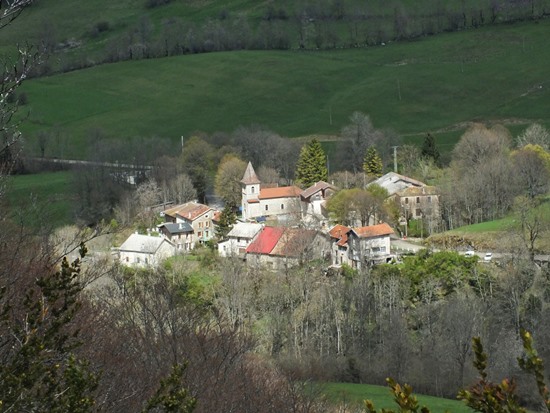 left: the village Rouset, as seen from the road to Col St Alexis.