Col de Nice

When coming down from the mountains, from Luceram or Sospel, you hardly notice the col de Nice. It is only a shoulder point with about 150ft of climbing. However, even if it's not a steep climb, there is some very pleasant cycling to be had further down on D21, which is really the lower eastern approach to this pass, and far away from any traffic coming down from the aforementioned mountains



1.(00.0km,111m) START-END 1: jct D2204 - D21 la Condamine
2.(06.8km,200m) La Grave de Peille; right goes to Col de la Madone, Col des Banquettes and Col de Saint Pancrace; profile continues straight
3.(13.9km,380m) l'Escarene; profile turns hard left
4.(15.5km,419m) TOP: Col de Nice
5.(15.9km,416m) northern turnoff onto CD321; can be used to approach Col Pellebier
6.(18.3km,225m) southern turnoff onto CD321
7.(21.8km,133m) Contes and jct with D16 from Coroaze
8.(23.4km,111m) START-END 2: same as point 1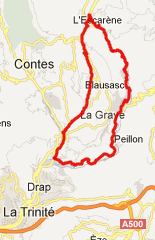 Approaches
From West. The main road from Nice via Drap and Cantaron is a busy suburban ride, but it is still easily bikable. It includes a bike path, leading north around the housing development of la Condamine. You find it automatically going north to south, not quite so automatically south to north. But the profile does not start until D21 branches off shortly thereafter. Following the direct route shown in the profile, D2204 up to the Col de Nice is not really a pleasant ride, due to heavy traffic. A detour over CD321 makes a nicer ride. D2204 is less of a problem during a quick descent. There is no view of any kind on top of the pass, no sign, and it is hard to see a reason to stop.

From East. (also described upwards). Following D21 has less traffic than the other approach, but more traffic than the mountain passes to the north. This road is busy with racing club cycles on the weekends and has a bike lane much of the way. The one jaw dropping sight along the way is a far view of the town of Peillon (picture included), apparently clinging to some moss on a stalactite like rock ahead. After that a short climb leads through a rocky gorge into the outskirts of l'Escarene. At the outskirts of this town a memorable road forks off to the right. It is labeled as: "Les Tres, Les Champs and Chapelle St Pancrace" and can be used as an alternate approach option to Col des Banquettes.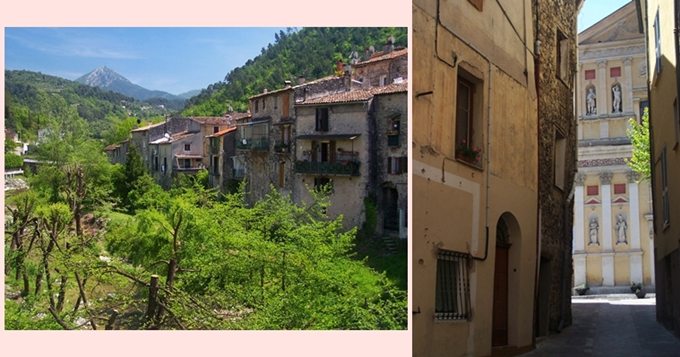 l'Escarene - on north side of Col de Nice


Oh, I almost forgot, to get to the top of the pass, you turn left in l'Escarene - but only after checking out all the bridges in this town. It's only 150 ft climb to the busy top. Alternatively you can take a right turn at the pass and keep climbing to Berre-les-Alpes s(u).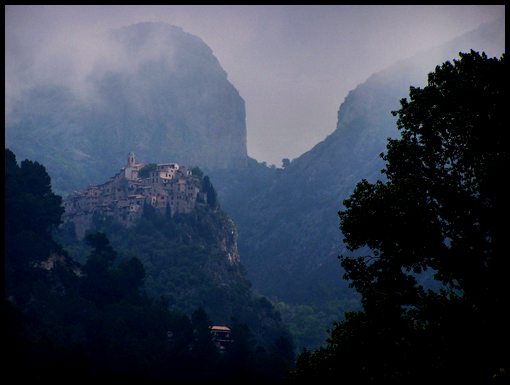 telephoto view of Peillon from lower eastern approach

Tours
back to Cycling Passes in Europe