Starigrad Mirilia Rd(ow)

The main attraction of this concrete track aiming straight up into Paklenica National Park are supposed to be stone grave markers left here by ancient residents. But just looking at the mountains and the road, and nature and the ocean (and biking up this staircase of a road) is a very satsifying activity in itself.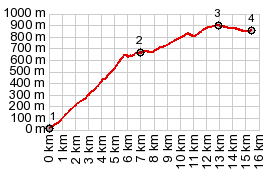 1.START-END SOUTH:turnoff from coastal road in northern end of Starigrad
2.end of pavement
3.TOP, 2890ft~880m
4.end of double dirt track, a rocky trail continues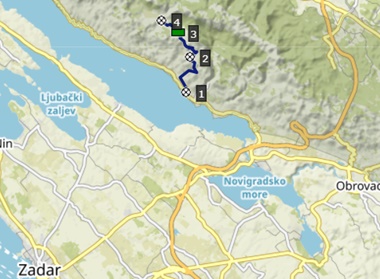 Approaches

From South. There are actually signs on the coastal road, on the southern end of town that point up this road. All they say is "Mirilia", with a squiggly Kokopelli-like symbol. (On the other side of the road Hotel Germania can also be used as landmark).

After steeply climbing through the last houses of the modern village, the road aims for a dirt parking lot above Starigrad with a nice introductory view of the town below. What follows is a alternately paved and concrete road, that seems to be glued to the surface of this rough limestone carpet - no energy waisted for constructing road cuts. A few possible dead end turnoffs are either marked or quickly discovered (or I was lucky). The last short traverse up to what looks like a pass is an especially impressive sight. From there a short roller coaster leads through craggly limestone spires and monuments to a parking lot, at about the same height as the pass.

The profile continues on a good unpaved road, that continues uphill from here. A few switchbacks lead into a high wide valley. The Croatian islands seem to recede like tree trunks floating in a pond from here out into the Adriatic. In this high valley sits a small village made up of picturesque church and a few stone houses, that appear to be modern vacation homes, even though they look very quaint and genuinely old. A sign informs that you have crossed into Paklenice National Park. The road deteriorates more and more as it enters a high grazing area for horses. There are several possible hikes and climbs from this high valley.

cLiCk on image , arrows , or thumbnails to advance slideshow
Dayride with this point as highest summit
PARTIALLY PAVED / UNPAVED
( <
jct 5110 - 59132 Krivi Put s(u)
|
63058 Slivnica s(u)
> )
Starigrad - Mirilia Road(ow) :
Starigrad-Paklenica <> end of "Mirilia road" into Paklenica National Park : 22.9miles with 3800ft of climbing in 3:55hrs (garmin etrex30 r5:21.11.24)
Notes: day also include hike up a nearby mtn from endpoint: h+b: 25.5miles with 4970ft of climbing in 5:2hrs. elev_max - elev_min = 3800ft-5ft. About the unpaved part: This was an ultra careful and slow roll on a touring bike over a mountain bike route. MTBs would take a fraction of the time.


cLiCk on image , arrows , or thumbnails to advance slideshow