63058 Slivnica s(u)

Parts of this little summit are a kind of viewing platform onto the Velebitski Bay in the Ariatic Sea. This looks small on the profile, but I think it delivers more scenery for each meter climbed, than any other Croatian road I know of. On pictures you could mistake this bay for a lake in the dolomites. But the villages and the barking dogs along the way correct that impression quickly.

1.START-END NORTH:road follows coast, north of Rofjanska
2.bridge over canal
3.profile turns right from main road onto 63028
4.TOP:722ft~220m turnoff in Slivnica
5.profile turns right onto D106
6.profile turns right towards Razanac
7.START-END SOUTH: Razanac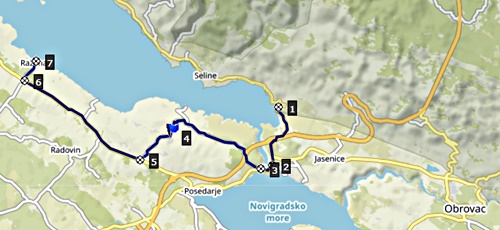 Approaches

From East. The profile climbs around around its eastern end in clockwise direction. The first memorable views of the Velebit mountains appear appear at the eastern end of the bay. There is a expressway interchange here. So the roads are wide, but traffic is not too heavy.

After crossing the canal on an impressive bridge, the turnoff to this minor road with little traffic is marked as part of a Mediterranean Bike Route. The Velebit views get better and better. The town Vijerac is a worthy scenic diversion, even if it means more climbing. 63058 gets noticeably steep on top for just a short distance, passing through a typical village of concrete houses.

From West. (described downwards) . Surprise - the land stretching to Zadar on this side is largely forested. But the route descends from the gentle ridge and picks up the straight major highway again. After climbing a little again, Velebit views are just beyond the hedges and the barking dogs. The profile descends to the village Razanak, another incredible Velebitsky Kanal show off - that's my opinion.

cLiCk on image , arrows , or thumbnails to advance slideshow
Dayride with this point as highest summit
COMPLETELY PAVED
( <
Starigrad Mirilia Road(ow)
|
D106 Pag - Novalja s(u)-1
> )
63058 Slivnica s(u) x2:
Starigrad > Rovanjska with detours > 63058 Slvinca s(u) > D106 west <> out and back to Razanak > D106 west > Rtina with out and back detours << turnaround short distance past bridge to Rab > D106 east > 63058 Slvinca s(u) <> out and back to first sign of Vinjerac >> Rovanjska > back to Starigrad: 664.5miles with 4240ft of climbing in 6:06hrs (garmin etrex30 r5:21.10.25)