Col de Mente

After climbing up the south side and seeing the crowds at this summit without views, this was not one of my favorites, even though there really was nothing to complain about. But the northern approach with all its switchbacks, ramps and big green presence across the valley completely changed my mind.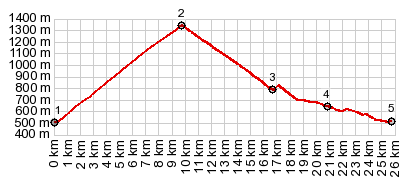 1.(00.0km,0500m) START-END WEST:turnoff onto D44, just east of St Beat
2.(09.8km,1349m)TOP:Col de Mente
3.(16.7km,0790m)turnoff direction Le Chouteou, and Portillon just after that
4.(20.8km,0640m)road to Col de Portet de Aspet stays right; profile goes left
5.(25.7km,0510m)START-END EAST:lowpoint just south of Bengouanet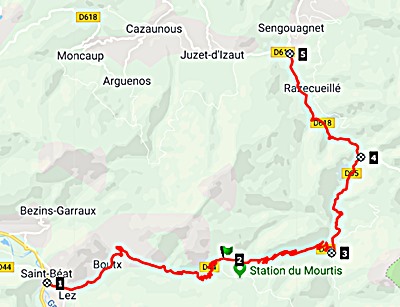 Approaches

From South. In St Beat the road to the pass starts climbing immediately very steeply. The road stays in the forest, and it just occurs to me as I ride along, that St Beat down there in the valley, was really a picturesque town. Unfortunately their cemetery was locked, with signs stating that the mayor is not receptive to any petitions that plead being let in. Wonder what the story behind that is.

But back to the pass. After quite a workout this turns out to be a one view pass. The view toward the vestiges of higher peaks to the north happens during the last series of switchbacks. The top has no view, but a bar/restaurant with a huge parking lot, filled to overcrowding with any and all kinds of bikers and other motorists.

From North. (described downwards) This side is quite a bit more interesting. Ramps connected by switchbacks lead into the depths of a green valley. I meet dozens of cyclists coming the other way, and not a single motorist amongst them - the opposite seen as at the summit bar. The imposing green fluted mountain, growing bigger by the switchback, is Pic de Escales, 1816 meters. The last village clinging to the v shaped green slot in the earth is Soulan. From there it's just a couple of tight switchbacks to shifting from last to first, because on the other side is steep but short climb..

The road follows the wild mountain stream through the forest downhill. There are no immediate paved connections between here and the world south. At the junction with the road to Portet d'Aspet the profie goes left instead and continues generally downhill. following a stream in a deep green valley to the jct of D618 with D5 to Aspet.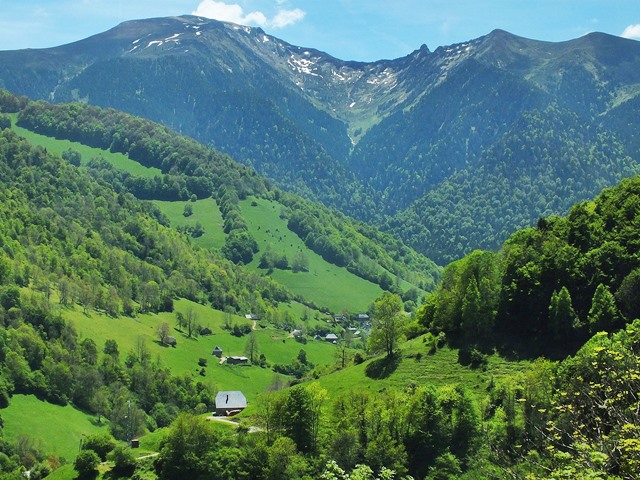 Dayride with this point a highest summit:

COMPLETELY PAVED

( < Port de Bales | Superbagnere(ow) > )

Col de Mente , Col des Ares , Col de Burel , additional out and backs : Bagneres de Luchon > Cierp-Gaud > St Beat > Col de Mente <> out and back to La Mourtia ski station >> Soulan <> jct with rd to Plan du Rey <> out and back back to Soulan <> separate out and back to Portillon > Col de Burel > Juzet s'Izaut > Col des Ares > Chaum > back to starting point in Bagneres de Luchon with grocery shopping detour: 67.1miles with 6804ft of climbing in 6:29hrs (garmin etrex30 r5:19.5.30)
Notes: this was not the planned route. But the paved connection between Plan de Rey and Col d'Articasgou, shown on the Michelin 1:200000 maps does not exist. The connection between La Mourtia ski station and the same pass does not seem to exist either.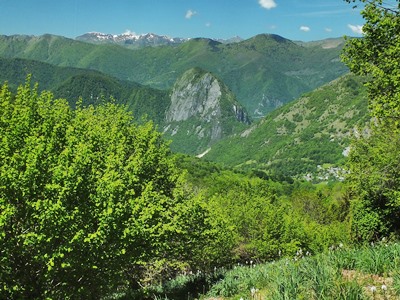 History

Cycling - Tour de France: This summit has been part of a Tour de France stage 18 times between 1966 and 2018, making this one of the most popular summits with the route planners. While by far the most popular anchor point for such a stage is (Bagneres de) Luchon, all of the stages have had a different route and the other anchor point have been distant places like Carcasonne (216km), Pau (214km) or Toulouse