Port de Bales

This is my favorite "home pass" of what may be the most charming Tour de France town: Bagneres de Bigorre. This route gets less traffic than other passes near this attractive bath town. Not only that, it climbs higher and is more remote with better far views. Many maps do not show clearly that this is a through going paved road (including my bargain basement used Michelin atlas).


1.(00.0km,0640m) START-END SOUTH:northern end of Bagneres de Luchon
2.(03.5km0830,m)profile goes right; left goes to Col de Peyresroude
3.(07.0km,1110m) St Paul d'Oeuil
4.(09.4km,1200m)Mayregne
5.(13.5km,1330m)Bourg d'Oeuil
6.(19.3km,1755m)TOP Port de Bales
7.(38.8km,0590m)Mauleon-Barousse
8.(45.1km,0460m)START-END NORTH: Siradan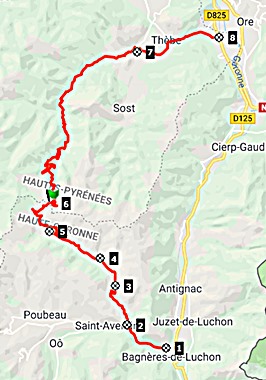 Approaches

From South. The profile starts in Bagneres de Luchon, and starts with all the traffic, going up towards Col de Peyresrourde. The traffic immediately disappears after the two routes diverge. About 10 km further up on the ride, I found out one reason for this abrupt improvement. The other side was "barre". But for bicycles it made no difference.

The road passes a number of picturesque villages, not particularly medievally clustered together, but loosely organized around a church. Still - the church sits on the highest spot of the village, take Cabous for example. In Bourg d'Oeuil, the road finally becomes serious - no more diversions and excuses to stop to photograph village scenes for me. It is finally time to get a work out in. The road switches back onto itself and the rest of the climb is on rounded tundra hills. On my ride on the 29th of May it gets amazingly cold on this last part. Behind Luchon a whilte lip of high mountains appears that looks, still much colder looking, than I feel approaching the summit. In order to get a better look at them I take a short out and back detour up the somewhat paved path to Col de Pierrefite.

On top of Port de Bales is a signforest, relating to the pass, consisiting in equal measure of warnings and dedications. The sticks stand out on the tundra scape as do the hundreds of tiny sheep dotting the green hills.





From North. (described downwards) I imagine even in times when there are no signs discouraging people from travelling over the pass, this must be one of the more isolated roads in the French Pyrenees. On the 17km between the top and the first village Ferrere, I saw 2 cyclists and one motorized vehicle. If I would have counted the turns instead, I imagine I would have come up with hundreds - no switchbacks after the very top, just and and neverending procession of turns following a creek into ever lower depths. The profile ends in Mauleaon-Barousse, another village with small water falls and large flower falls hanging above the water. Ivy overgrown walls compete for attention with hanging balconies and perfectlly placed flower pots.


cLiCk on image , arrows , or thumbnails to advance slideshow


Dayride with this point as highest point:

COMPLETELY PAVED

( < Port de Bonaiqua | Col de Mente > )

Port de Bales: Bagneres de Luchon <> short detour to Benque >> Bourg d'Oeuil > Port de Bales > Ferrere > Mauleon-Barousse > Cacarith > Siradan > Cierp-Gaud > Cier de Luchon > back to starting poinnt in Bagneres de Luchon with several sightseeing detours : 50.0miles with 5277ft of climbing in 5:19hrs (garmin etrex30 r5:19.5.29)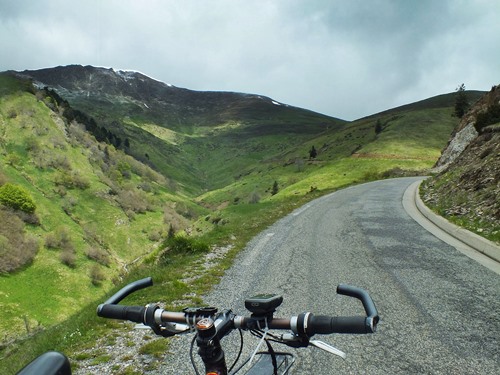 History

Cycling - Tour de France: The pass has been 5 times as part of the Tour de France: in 2007, 10, 12, 14 and 17.