Col De Marcieu
Of all the rides I have tried in the Chartreuse Range, one of my favorites ( I want to say the favorite) is following D30-C along the east side of the plateau at half height. This pass is the highest point on this traverse


1.(350m,00.0km)START-END NORTH: jct D590A - Rue du Fort, north of Barraux
2.(450m,04.6km)profile stays right on D282
3.(750m,07.9km)jct with road, traversing along Chartreuse from north
4.(1060m,14.6km)TOP: Col de Marcieu
5.(910m,18.6km)profile turns downhill onto D30, south of St Bernard
6.(250m,26.5km)START-END SOUTH: jct D30D-D1090, north of La Terrasse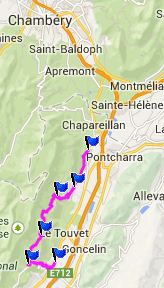 Approaches

From North. But the profile does not follow D30C all the way, but chooses a relatively direct approach from the valley of the Isere, and starts climbing before Baraux. Even with this option a part of the traverse is included in the ride.

In order to negotiate the climb up into the precarious position between the two cliffs the road utilizes a short tunnel and a relatively gently spot in the slope. Once the traverse is reached the road actually stays in the cool forest for the majority of the time, but peridically delivers fantastic views skywards to the cliffs, as well as good far views of the Belledonne Range during clear weather.
The pass itself is reached with a short climb. The area is a trailhead and a low key ski area, as well as a picnic ground and restaurant.

From South. (described downwards). The traverse continues for a while longer, just as if the pass never had happened. The profile descends at the next possibility at Saint Bernard. This area is quite a bit busier than the previous part of the traverse. Closer to Grenoble there is also more traffic now. Instead of descending here like the profile, one can also climb higher direction Col de Coq. I had an amazingly clear day on this ride, and there was a great view of Mt Blanc, resembling an iceberg in unimaginable distance during this day of 30 plus degrees Celsius.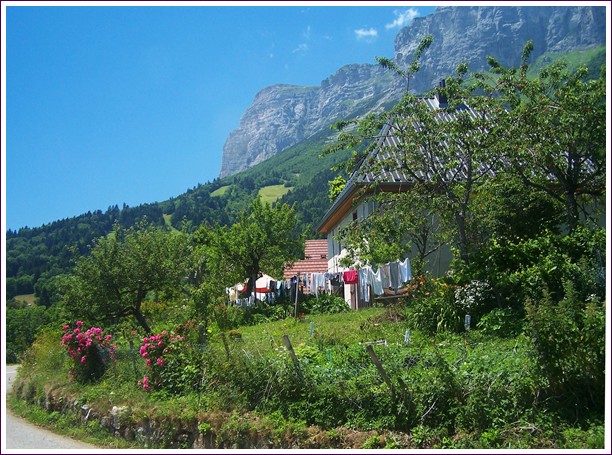 what a nice place to dry the wash

A Dayride with this point as intermediate summit is on page: Col de Coq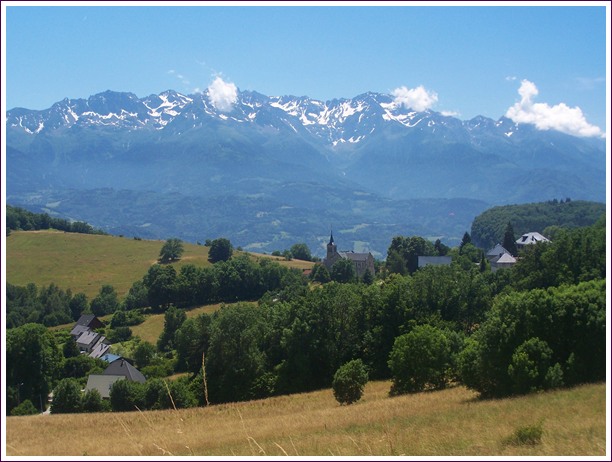 left: telephoto view of Mont Blanc from a great distance
above: the Belledonne Range are the backdrop behind Saint Bernard
below left: the summit
below right: a tunnel on the north side, while climbing to the ledge on the plateau