Cesta na Mangart(ow)

Defensive border roads in the mountains of Europe are always something special. Safety concerns are thrown to the wind, when it comes to defending yourself from your neighbor in the next world war (at least as far as the previous world wars are concerned). Here the result is a narrow, exposed road with sheer drop offs. But the surface is kept in excellent condition. From the top, Slovenians have a choice spot to see what's happening below in Italy. The road is popular with cyclists (on my ride probably around 100), motorcyclists (maybe ~200), climbers and car tourists. It is amazing how they all get by each other on this narrow road with sheer drop offs. - This is the highest paved road in Slovenia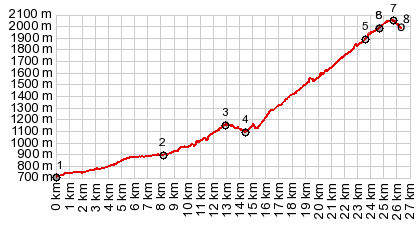 1.START-END NORTH:low point in Tarvisio, on river Gallitz direction Fusine
2.Cave del Predil
3.Passo del Predil, 1156m
4.turnoff to road up M Montgart on left
5.closed to cars (temporary?) from here on
6.start of one way loop at top
7.TOP, 2050m
8.same as point 6, end of one way loop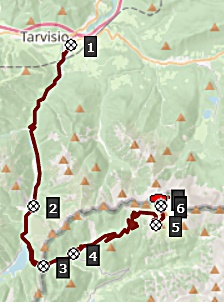 Approaches

From West. The Mangart road leaves from about 1.5km of the summit of Passo Predel (Predil) on the Slovenian side, right at the point of an impressive bridge, also named Predel.

The objective of this climb comes into the center field of view right after the turnoff. It's that large mountain, shaped like a coin stuck into the ground. A few high traverses can be seen. But exactly where below the mountain top the road ends is not clear yet.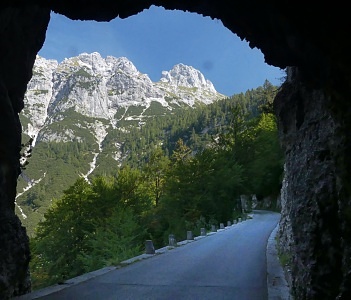 For now the road just alternates between tight switchbacks in the forest and short, unlit tunnels, with just enough light in them, that they can be ridden even without a light. One ~600m tunnel is long enough to present a completely new viewshed at the exit. The road finally climbs above treeline and the vertical limestone texture walls give way to a tundra landscape, bordered by steep cliffs. That coin shaped mountain has not changed much in the meantime. Cars parked not far above hint, that the road will not be open much higher. However with a bicycle that's a good thing, and the road, now converted into a hiking trail with bike access, gains the last hundred meters in open tundra. At the top is a one way loop, that does not gain enough elevation to make this a two way summit. A short walk from the top leads to views down to the Fusine lakes. A very popular route to the top of Mangart Peak starts here. Firsty it's a rocky hike and then it turns more and more into a real climb. Since it starts so high there there can be an enormous number of people on the mountain at the same time.

cLiCk on image , arrows , or thumbnails to advance slideshow
Dayride without two way summits and this point as highest one way summit:
COMPLETELY PAVED
( <
Vrsic Pass
|
Sella di Razzo s(u)
> )
Fusine <> Tarviso <> Cave del Predil with sightseeing detour <> Passo Predil(shp) << loop at end of road below M Mangari: 44.4miles with 5460ft of climbing in 5:24hrs (garmin etrex30 r5:22.9.14)
Notes: hike from top point to forcella Mangart (2166m) gained about 450ft from end of ride. Elev_max - elev_min, including walking = 7050ft -2360ft = 4690ft
History
WW2:
The road was built by Italian soldiers in 1938, when the area was Italian. Building it took two years, and did not stop during winter. Then, after WW2, the border between Italy and Yugoslavia was in dispute. Occupational troops were on both sides. The 10th Mountain Division, trained in Colorado, played this role for the Allied side. An informational tablet along the route tells how they set up a ski race in June 1945, won by a certain Walter Prager, who went on to become the coach of the US Olympic Ski team in 1948.