Col de Lava


On both sides of Porto, the coastal road D81 goes through some very remarkable scenery. On the the north side there is first a little 500ft summit, that threads its way between walls, rocks and sea, then a long scenic traverse over
Col de la Croix/Palmrella
.
But this page is about leaving Porto to the south and a short but scenic climb through Les Salanches to the town Piana, which likes to advertise the fact that it is on the Unesco world heritage list.

1.(40m,00.0km) START-END NORTH: jct D84-D81,east of Porto
2.(450m,11.2km) Piana
3.(460m,11.7km) turnoff on right to Belvedere de Saliccio; profile stays on D81
4.(480m,12.0km) TOP Col de Lava
5.(25m,24.0km) START-END SOUTH: low point, several km before reaching Cargese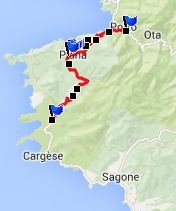 Approaches

From East. If you don't look closely, Porto is really just a collection of modern hotels and campgrounds around the relict of an old coastal tower, and a beach section. The setting looks like the perfect hideout. As far as interesting buildings are concerned, the most interesting things I could find were two almost supermarkets. Even the initial climb, leaving Porto is just a hill in the forest.

What comes after that is best left to pictures. But it involves a lot of craggy rocks, walled in turns, tourists stopping their cars to walk the road instead of driving, and postcard sales. This super photogenic stretch is only a few km long, and then the road enters Piana, a collection of houses and hotels, a safe distance from the cliffs to the ocean, but with view on the steep opposite side of the sea, and snowy peaks above and behind. The summit of Col de Lava is reached just as you leave this town and see the antennas on the Belvedere de Saliccio s(u).

From West. (described downwards) All the tourists are on the other side. The coastal views are much more of a pastoral nature on this side, grazing cows, forested hills receding from the ocean. Gone are the wild cliffs and red colors.

A Dayride with this point as intermediate summit is on page: Col de Sevi

History-Cycling: The Tour de France came through here the first time in 2013, on a 145km stage between Ajaccio and Calvi. I wonder if they noticed that there was a hill here, or if they noticed the views.