Col de Jau

When studying a map of the area north of the Canigou Massif and its vast sweeping mesas, this is the pass that first stood out to me. For European standards this is a road with long distances between towns and supply points. The old towns along the way are also the most interesting feature of this ride.


1.(00.0km,0270m)START-END NORTH:bridge over river La Tet, Quixanes
2.(02.8km,0310m)Eus
3.(03.4km,0300m)route joins direct approach from Prades
4.(15.4km,0700m)Mosset
5.(28.8km,1506m)TOP:Col de Jau
6.(42.2km,0600m)Saint Colombe sur Guette
7.(46.7km,0450m)jct with D18 to Mont Louis
8.(50.1km,0410m)START-END SOUTH:Axat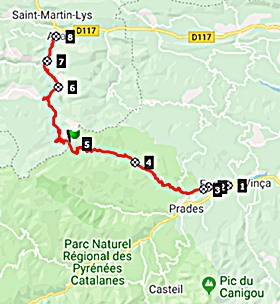 Approaches

From North. Col de Jau is at the northern doorsteps of the small, attractive town Rhodes. When approaching the pass from downstream along the river Tet, one can ride the last kms on a small road on the north side of the river - much better than the traffic clogged main road. As a bonus you also go through a village plastered to a hill: Eus.

A choice between two pass roads needs to be made north of Rhodes: Col du Jau or Col du Roques Jalere. If the weather is currently good for far views, but might deteriorate in the afternoon, my choice would be Roques Jalere.

Col du Jau too has its fascinating points, but far views are not one of them. The last good view of the Massif du Canigou is at the junction with the road to Col du Roques Jalere. What's interesting about Col du Jau are the towns along the way. First comes a luxury therme (spa) hidden in a small amphiteater in the landscape. And later comes the most memorable town vista along the way: Moussat. You'll know it when you see it.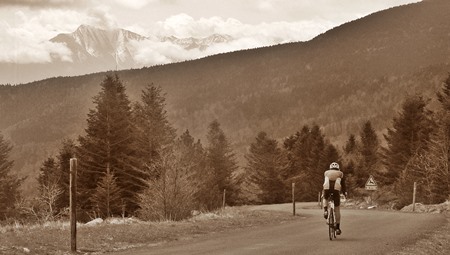 The road seems to change width several times. But it stays in a low ravine the entire way. Approaching the top the plateau the road enters into forest. From the top you can make out a far ridge of the Massif du Canigou, cut of by a shoulder of trees. This seems to be a popular gathering spot for cyclists. I talked to several about the most diverse subjects.





From South. (described downwards) For European standards this descent has a very isolated feel to it.There is really only one town visible from the road, sitting on a hill, a km or two away. The next place with people is Alat. Between here and there: a beautiful curving descend into gentle plateau country. Before Axat one more surprise: a short slot like canyon: the Gorge de St Georges.


cLiCk on image , arrows , or thumbnails to advance slideshow


Dayride with this point as the highest summit:

COMPLETELY PAVED:

( < Col de Palomere | Col de Roque Jalere > )

Col de Jau , Col d'Aussieres s(u) , Col del Roque Jalere , Col du Camperie: Rodes > Eus > Moltig-les-Bains > Campome > Mosset > Col de Jau > Axat > Col du Camperie (514m) > Salvecines > Gincla > Montfort sur Bulzane > Col d'Aussieres s(u) > Rabouillet > Sournia > Col del Roque Jalere > Eus > back to starting point in Rodes :82.1m with 8799ft of climbing in 7:59hrs (garmin etrex30 r5:19.5.9)
Notes: Col cu Camperie is a signed pass in the forest on a small hill

History

Cycling - Tour de France: This pass was three times part of the tour: in 1976, 1993 and 2001. This is one pass where the stages containing it, were all won by French cyclists.