Col de Palomere

This is the highest paved two way pass, between the Mediterranean Sea and the first real peak of the Eastern Pyrenees: Massif di Canigou. The pass does not quite reach treeline. Mostly this is a ride along oh-so-curvy peaceful roads. I saw maybe one or two dozen cars, and twice the number of cyclists on a weekday in early May.


1.(00.0km,0260m) START-END NORTH: Vinca
2.(18.3km,0880m)Valmanya
3.(23.7km,1036m)TOP:Col de Palomere
4.(28.1km,0790m)La Bastide
5.(35.5km,0752m)Col d'En Xatard
6.(40.1km,0656m)Col de Fourtou
7.(57.8km,0200m)Bouletnere
8.(58.8km,0190m) START-END SOUTH: jct with N116 north of Bouletenere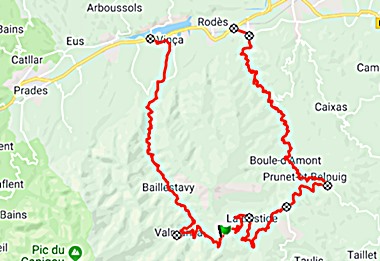 Approaches

From North. south of Vinca, all signs point to Valmanya it seems, and that is actually the road to this pass. In many curves the road contours up a forested V shaped valley. The peaks, that are such a crowning appearance from the center of the valley, are somewhere above the forested slopes. In Bailestavy the remnants of a castle sit on a rocky carved-out niche in the green slopes above. There are surrounding gites and other businesses, but none seemed to be open this time of year.

Slowly the peaks make an appearance. Just past Valmanya the road suddenly pulls away from the Pic du Canigou (which the road has been heading for now), and contours along a small descent to the east, and then heads for a low gap at just below treeline. There is sign here, maybe a couple of parked cars, and tracks that head along the gentle ridgeline in both directions. A short walk to the round mountain to the east improves the view of the Canigou massif quite a bit.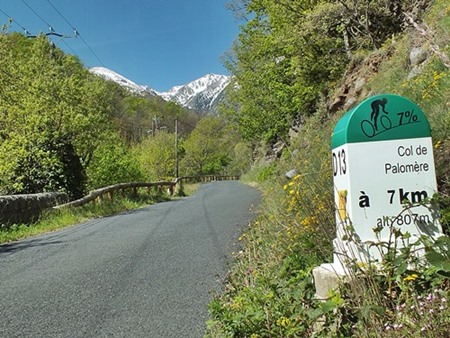 From South. (described downwards) If you are looking for a 10th century chateau to buy there is one available in the next little medieval cluster of houses on the way down, called La Bastide. For me it is just a superb picnic site: a bench in a deserted square around a tortured looking tree, pruned into knots. The clock on the chateau tower reads 9:45, trying to convince me that I am definitely not late, no matter how many baquettes with brie I have for lunch.


The road winds down through the trees in endless peaceful turns, without hardly a car encountered and then climbs almost imperceptively to Col Xatard. It's less than a 100 meter climb, so I do not count it as a crossed pass in the ride below. The profile could continue either way downhill. In order to demonstrate my dayride it goes left, past another medieval church to another gentle pass in the forest, Col de Fourfou, again just a shoulder point on the way down.


Returning towards the starting point I stay left here and continue the gentle descend through rolling scrub forest mountains, with the occasional medieval chapel lurking in the valley below. Bouletenere provides one more chance to cool off in medieval narrow street canyons around an old church before the traffic of N116 subdues the senses into traffic automatism..


cLiCk on image , arrows , or thumbnails to advance slideshow


Dayride with this point as highest summit:

COMPLETELY PAVED

( < Colle Mollo s(u) | Col de Jau > )

Col de Palmorere: Rodes > Vinca with short detours > Bailestavy > Valmanya > Col de Palomere > la Bastide > Col Xatard(shp, 752m) > Brunet et Belpuig > Col Fourtou(shp) > Bobleternere > Col de Terneve (shp,232m) > back to starting point in Rodes: 42.7m with 3883ft of climbing in 4:26hrs (garmin etrex30 r5:19.5.6).
Notes: a perfectly sunny and clear day after a perfectly sunny and clear day with winds that blow away bicycles. - Another broken spoke, but quick fix with last replacement spoke that I have with me.