Col d'Aussieres

For many cyclists, this seems to be the most popular of the passes in the area between Prades and Axat. Maybe this is so, because a famous old Cathar castle is along the way, and it is on many obligatory tourist itineraries. Or is it the fancyfull inspired canyon on the north side? Or maybe it is just the completely convincing peace of the pastoral nature of this landscape.


01.(00.0km,0390m)START-END NORTH:jct D117-D118 north of Axat
02.(03.5km,0514m)Col Camperie
03.(05.8km,0440m)route turns right in Lapradelle
04.(09.5km,0520m)Salvezines
05.(12.5km,0590m)Gincla
06.(16.0km,0730m)Montfort
07.(21.3km,1020m)Col d'Aussieres
08.(23.5km,1060m)TOP:highest point: Col d'Aussieres s(u)
09.(30.3km,0720m)Rabouillet
10.(36.5km,0540m)START-END SOUTH:Sournia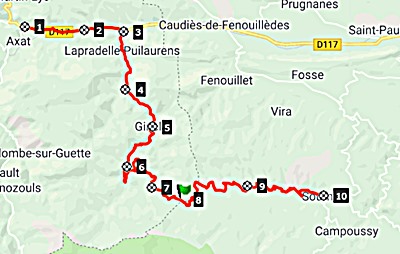 Approaches

From North. D117 east of Axat is a wide and fast highway with a good shoulder and not much interesting else happening. The turnoff to Pullaurens, Salvezines and Gincla changes everything. Not only does the road improve greatly for cycling. But also - one of those perceived obligatory touristic experiences is waiting high on a hill above, one of the Cathar castles.

I skipped the extra 2 km climb up to it, because I was worried about actually making it back on time for this loop. But I think I can see why it is so obligatory. It must be a great view from up there too. The fanciful canyon of the Aude ends abruptly as the road climbs out of Salvezines. The rest of the ride has a pastoral, peaceful character of high gently wavy hills, through which the road negotiates in a million turns. The Col sign stands in a grazing area of sorts. But the road gently leads a little higher, traversing an ever so rounded long hill. The viewshed too changes after the pass has been crossed

From South. The character of the landscape stays the same. But there is another town along the way, that really grabbed my attention. The cluster of houses has a pyramid shape. At the top reigns a church: Welcome to Rabouillet. The town entrance signs offer two different spellings. But on the way down, you almost miss everything, unless you remember to turn around after rolling through it.

In Sournia the road reaches an intermediate low point. But if you started out from Prades, or the valley it sits in, Sournia is still a lot higher. There are several possibilites of more passes and summits for the return back to the valley.

cLiCk on image , arrows , or thumbnails to advance slideshow
A Dayride with this point as intemediate summit is on page:
Col du Jau