Haza del Lino - Albondon s(u)

The ride climbing up to, and then following the ridgeline of the Sierra Contraviesa - for me - is one of the greatest scenic riding experiences in Europe. But I am partial to dessert landscapes. (I even like Wyoming quite a bit). There are at least 4 possible paved summit points along this ridge. This one just happens to be the highest by a few meters.

I have used the pictures of panoramio and flickr contributors, as well as other web sites to illustrate this page. There are copyright notices and links to all original pictures. My own pictures were on a computer, that was stolen at the train station Frankfurt Airport (model Acer Aspire One (serial# NUSGPAA01625101C947600F)
01.(00.0km,0020m)START-END EAST: Mediterranean coast in La Rabita
02.(06.7km,0240m)middle turnoff to Albunol
03.(18.0km,0950m)upper turnoff to Albondon
04.(23.9km,1260m)profile turns left along GR5204, following ridge line
05.(26.0km,1350m)TOP: point of highest elevation
06.(36.2km,1250m)turnoff downhill to Alfornon
07.(37.2km,1230m)right goes to Haza del Lino(sh), profile stays left
08.(39.8km,1060m)jct with A4131 to Sorvilan
09.(44.5km,0760m)middle turnoff to Popolos
10.(54.6km,0020m)START-END WEST: Mediterranean coast, west of La Mamola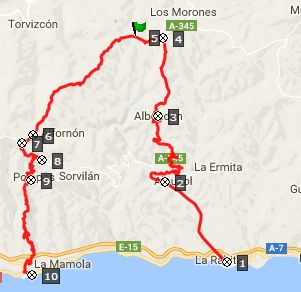 Approaches

From West. This climb up from west of the summit also serves as direct approach to the Haza del Lino(sh) summit point, and is described on that page. There are actually two points labeled with a sign saying "Haza del Lino". The first one is an intersection with a restaurant, where this profile turns right. The second is a point in the forest, very close to the actual highest point, some distance to the west of this intersection.

After having turned east at the Haza del Lino intersection, the village Alfornon looks like a tempting goal from this vantage point perched above. If sticking to pavement it's quite an additional out and back leg. Maybe some other time.

After the hard climb is over, I can now make fast progress if I don't stop for too many pictures. This gives me hope that I will get back "home" before it gets dark.The profile now follows a barely curving road over what could be regular rolling hills - if they were not so high above the surroundings, and positioned between sea and snow capped mountains. In the distance the Sierra Nevada is foreshortened into a wall by the light. It sits in the back of this diorama made for rolling. This particular stretch of the ridge road has the most views over to the high range. The foreground is often a geometric pattern of fruit or almond trees.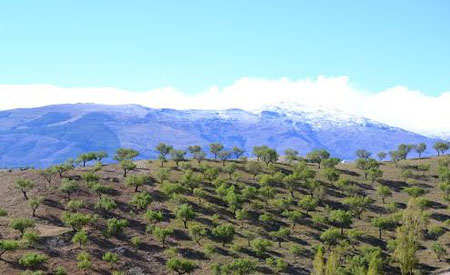 copyright: Panoramio; viajeroandaluz Sierra Nevada from just east of Haza del Lino, along GR5204, and west of the Haza del Lino

If you carefully watch your surroundings during the ride, the highest point is actually quite obvious, but definitely not associated with what you would call a climb. The road runs along a few crowning barely rising knolls with now plentiful views to the Sierra Nevada, as well as behind and ahead.

From East. (described downwards). This section along the ridge road is actually fairly short. But if not taking this next possibility for a descend towards Albunol, you are in for a much longer ride, and a more curvy road than on this section. The next chance after this to descend to the coast goes to Adra, located at the very eastern end of the Sierra Contraviesa.

The descend down to Albondon and Albunol is derscribed on the Venta de Chaleco - Turon(sh) page. There are more pictures of that section on that page also.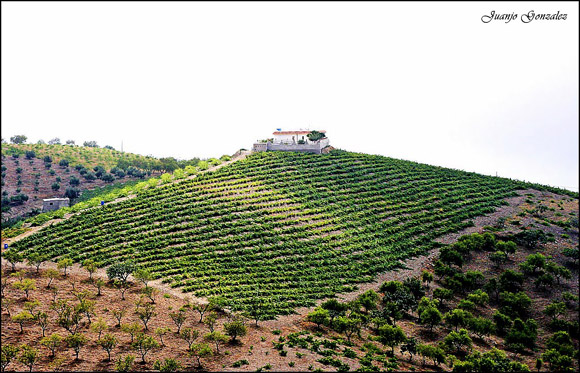 Copyright: Panoramio Contributor: Junajo Gozalez piclink
A345 serval km above Albondon

A Dayride with this point as highest summit:

( < Haza del Lino(sh) | Puerto de Santillana > )
Haza del Lino - Albondon s(u) : AI6300, about 6km north of Adra > Adra > La Mamola > GR6204 > Poplolos > GR5204 east > Haza del Lino - Albondon s(u) > Albondon > Albunol > La Rabita > Adra > back to starting point on Al6300: r5:16.4,5
Notes: gps data, pictures and original description were on computer stolen at Frankfurt airport train station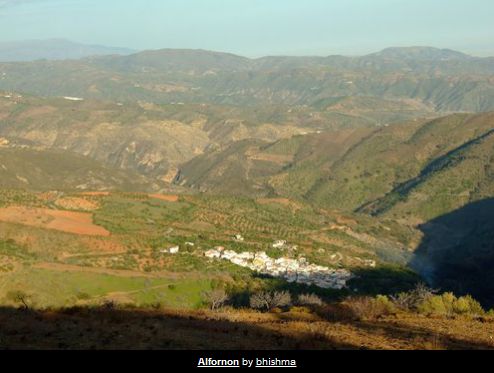 Copyright: Panoramio Contributor: bishma piclink
Alfornon from GR5204