Col de Grand Cucheron
Between the Chaine de Belledonne and the Massif de Bauges two foothill ranges are sandwiched: the Chaine de Hurtieres and the still lower and smaller Montraillant. This is the highest pass in these two foothill ranges of the Belledonnes. To differentiate it from the nearby
Col du Cucheron
in the Chartreuse Plateau, and Grand has been added, but on at least one map (the IGN 1:100 000 of Grenoble, Chanbery) the Grand has been replaced with Col de Petit Cucheron instead.

1.(320m,00.0km)START-END WEST:jct D24-D925, west of small village: La Trinite
2.(840m,07.2km)La Table and jct with route over Col de Champlaurent
3.(890m,13.6km)upper jct with road over Col de Champlaurent
4.(1183m,17.5km)TOP: Col du Grand Cucheron
5.(520m,27.2km)route joins D74 and turns north
6.(340m,33.9km)START-END EAST: Aiguebelle, eastern end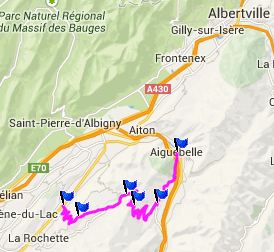 Approaches

From West. As usual there are several options for the lower approach, but you have to start somewhere from the straight and fast D925 between La Rochette and Chamousset. I came down from the nearby Col de la Cochette and left D925 as soon as possible. This lead me up pleasant forested switchbacks to La Table. Across the valley the Dent d'Aclusaz (2041m) is a picture book example of a hardened syncline, that eroded into a mountain outcrop (see the bowl shaped rock layers ?). Looking back, the Chartreuse also shows a few last impressive views, before the road looses itself in high flowing fields and forests. La Table is a compact village with all the necessities for a pleasant picnic lunch, a large church, a sculpted soldier and the WW1 memorial, and the biggest house in town says "Mairie".

There is a signed turnoff to a transmission tower here, an option for a short detour over Col de Champlaurent, and the profiled route, which heads downhill a short distance into a small high valley between gently rolling hills. The road uses a large curve and a few gentle switchbacks in the forest to gain the crest. Here is a picnic table waiting with a view onto the Chaine Belledonne. A dirt road on the left appears to lead along the ridge.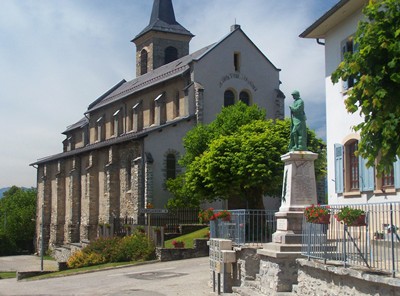 above: a lunch picnic in front of the church in La Table
below: view of the Arve valley while rolling down the east side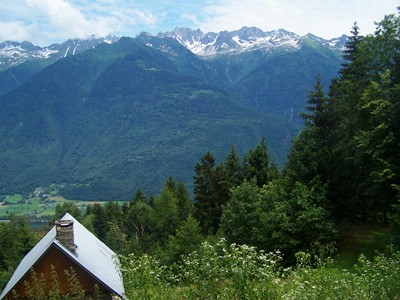 From East. While rolling down the long ramps connected by switchbacks, the forest opens up periodically. The houses below start taking on shape and the the cows start to be heard, and the peaks above slowly envelop themselves in clouds. The road meets the bike route running along the Arve valley, not down in the valley but while it is on a high traverse in the forest on the west side. The profile turns right and rolls down to St Alban des Hurtieres. But when completing a loop over this point, the route will probably turn left to climb a little less than 300ft to the shoulder summit between St Pierre de Belleville and Aiguebelle


Dayride with this point as highest summit:

Col de Grand Cucheron , Col du Marocaz , Col de Cochette , les Frasses - Coise s(u) : la Ravoire > Montmelian > Coise > Villard d'Hery > Col de Cochette > la Table > le Pontet > Col de Grand Cucheron > St Alban des Hurtieres > D207 Aiguebelle - St Pierre de Belleville(shp > Aiguebelle > St Laurent > Col du Marocaz > back to starting point in la Ravoire: 72.6miles with 7628ft of climbing in 6:55hrs (Garmin etrex30: m4:14.7.1)


The last day with different start and end points over a pass on this tour is on page: D207 Aiguebelle - St Pierre de Belleville(s)