Col de Cochette
In a day of cycling over mountain passes, there are some, that definitely are the main meal of the day. In comparison others might be designated as breakfast or dessert. This is one of the the latter two. For me it was the first pass of the day, before continuing on to
Col du Grand Cucheron
. It that way is was a breakfast pass. But the early morning light was so great, especially compared during the deteriorating light conditions of the afternoon, that it sticks in memory more like a dessert.
The road climbs over a narrow forested ridge, sandwiched between the Bauges Massif and the Hurtieres Mountains. Both the Hurtieres and the Montraillant could be described as foothill areas between the Bauges Massif and the Chaine de Belledonnes.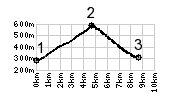 1.(230m,00.0km) START-END WEST: jct D204-D33, east of Montmelian
2.(587m,04.8km) TOP: Col de Cochette
3.(310m,08.7km) START-END EAST: jct D33-D925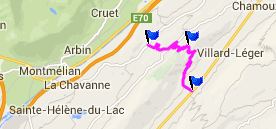 Approaches

From West. One can approach the highest paved pass in the Hurtieres foothills region, the Col de Grand Cucheron from this side on a series of steps over increasing mountain passes. This pass would be the second step. Before that lies an small climb from the valley of the Maurienne to Coise and onward to Villard d'Hery. But that step, as well as the Col de Cochette could just as easily be bypassed by valley routes.

But then you would miss the views. From Villard d'Hery serveral forested switchbacks climb on a low traffic route. On the other side of the valley the Dent d'Arclusaz steadily seems to grow in size. The geological syncline structure in this sheer wall of sedimentary rock layers is clearly visible. This is a textbook example of the upper rock layers being hardened by the compression in the syncline. Consequently they are harder to erode and this mountain tooth formed. Another entire mouthful of giant dental like structures to the west also make a great view - the last glimpses of the Chartreuse area on this ride. The route crests past a wood cross, and emerges from the forest to reveal the first view of the Belledonne Range. A mountain meadow with a bench above to the north invites for a rest

From East. The road is narrower on this side. A quick descent leads to la Trinite. The small collection of houses seems to have a special talent for disguising new renovations as medieval decay. Just a short distance on the the straight main road to La Rochette in the south, and one has the opportunity to start climbing again to La Table and Col du Grand Cucheron and/or Col de Champlaurent.

A dayride with this point as intermediate summit is on page: Col de Grand Cucheron