Gampenpass
This is one of two named, paved passes on the plateau between the dolomites and the Ortler Group of the alps. Even though Gampenpass is higher than the nearby Mendelpass, the later has the better views of the dolomites, while Gampenpass is a better vantage point on the Ortler Group.
photo page

01.(00.0km,291m) START-END NORTH: start of Gampenstrasse south of Merano.
02.(25.2km,1518m) TOP: Gampenpass
02.(32.1km,1235m) upper turnoff to Tret
03.(37.0km,1037m) upper end of Fondo. bypass turns off to left and rejoins SS42 shortly afterwards.
04.(40.5km,968m) route from Mendelpass joins from west, just north of Caverno
05.(53.5km,558m) START-END SOUTH: jct: SS43 - Via per la Mendola in Demulo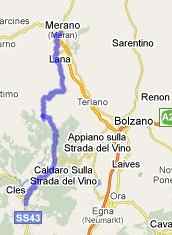 Approaches
From East. The road to the pass starts on the west end of Meran. But coming from the downvalley area in Bozen, one can stay on the high west side of the valley and climb through the towns of Nals, Prissian and their castles and join the Gampenpass road in Tisens. Once on the main route, the road climbs in forest, opening far views onto the dolomite area. The top comes as a surprise, and offers no views, nor is it an attractive area. On weekends the sides of the road serve as impromptu parking lot for the nearby Gasthof.

From West. (described descending) The really nice mountain views of the Ortler Group are further down the pass. They start a little bit above St. Felix and stretch down to at least as far as Fondo. As you approach Fondo, deep limestone canyons make up the scenery. In Fondo many cyclists turn back uphill to climb Mendelpass. But in order to get the full elevation drop you have to descend further into the val di Non or val de Sol.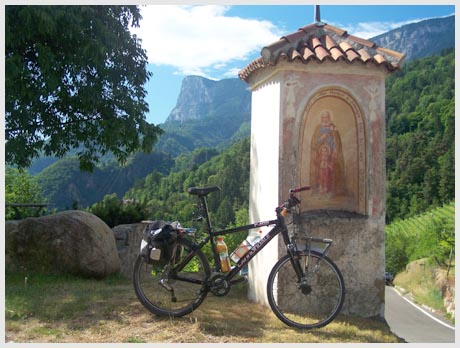 Pictures: First picture taken near the town of Prissian, which is not on the lower ascent from Meran, but an alternate approach through Prissian. Lower picture is a telephot shot of the Ortler group as seen from a bridge near St Felix.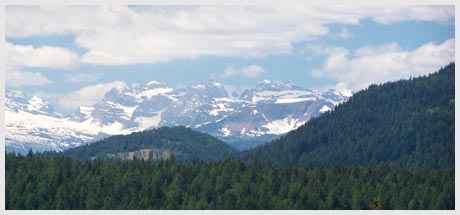 Dayride with this point as highest summit:

Gampenpass , Mendelpass: Andrian > Tisens > Gampenpass > Cles > Fondo > Rufre > Mendelpass > Frangart > sp: 49 miles with 6100ft of climbing in 4:5 (VDO MC1.0 m4:9.6.2).

The last day on this Extended Tour with different start and end points is on page:
Penser Joch



Gampenpass
(aka Passo di Palade)

Highest Point: 1518m

Northern Approach:




drop

from Merano (291m)

1227m
25.2km



Southern Approach:






from Demulo (558m)

481m

28.3km


from upper jct to Fondo (1037m)

960m

11.8km

~50m

back to Cycling Passes in Europe