Furkelpass

(aka Pso Furcia)
Furkelpass is a relatively short loop through the northern end of the dolomites near Bruneck. This pass does not show up on all maps. Kompass hiking maps label it as Furkelsattel, on some road atlases of the alps it does not show up at all, and at least one Italy atlas labels it as Furkelhoehe. All the signs in the area call it Furkelpass.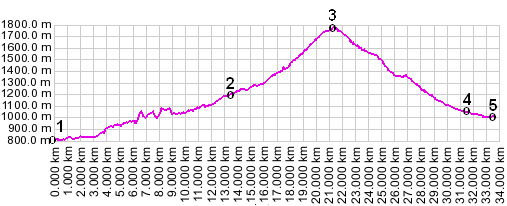 01.(00.0km,807m) START-END EAST: Floronzo, Pustertal. Route follows bike path along SS244
02.(13.3km,1187m) Sankt Vigil
03.(21.1km,1789m) TOP: Furkelpass
04.(31.4km,1049m) Valdaora
05.(33.5km,1011m) START-END WEST: jct SS49 - SP44, Pustertal
Approaches
From West. The initial approach from the valley is the same as riding up Wuerzjoch . A series of 4 long tunnels south of Sankt Lorenzen can be bypassed on sections of an old abandoned road. This makes the ride up very pleasant, scenic and quiet. On an ascent the bypasses are all on the right side, so no time is lost crossing the road. In Zwischenwasser the road to Furkelpass heads straight aiming for the ritzy ski resort of Sankt Vigil, while the route to Wuerzjoch turns off to the left. Meanwhile the first dolomite cliffs appear behind the facades of ski hotels and lifts. In Sankt Vigil the road turns steeply up the left without really entering town, and now the major visula attractions are villages at half height of the valley, each with at least one tall church towers sitting in clusters of stately houses and barns fit to be mansions in other parts of the world. Looking at them from across the valley, flattened like on a piece of paper, the buildings appear like an illustrated map of the village. As the road switches back and forth the Kreuzkofel Gruppe and the peaks in the Wuerzjoch area come into view. They disappear as the road enters the forest and soon goes under a ski-over bridge, labeled Furkelpass with a somewhat lower altitude than the official figure. More ski buildings follow, then another short climb to a parking lot where the official sign with the correct altitude is located. There is a trailhead. All ski area buildings are a little lower.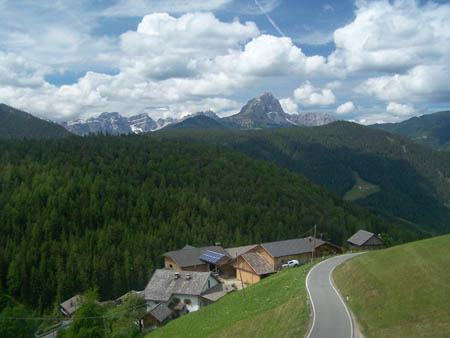 From East. A fast descend soon opens the view up the Niedertal with the border to Austria and Staller Sattel. Turning back, a few dolomite cliffs can still be seen, but this is their northern end. Here too there's a ski bridge. In Olang you can pick up the bike road in the Pustervalley, connecting to other points in East and South Tirol.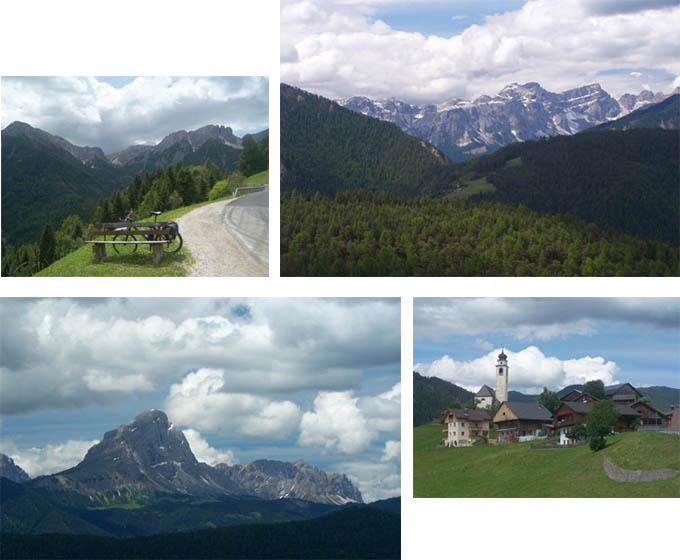 Tours
Dayride:


Furkelpass:
Kiens > Furkelpass > Olang >Bruneck > sp: 38miles with 4000ft of climbing in 4 hours (VDO MC1.0 m3:9.6.28).
Notes: This is a loop with an additiona 6km out and back approach from Kiens. Includes about an hour of sightseeing in Bruneck.
The last day of this
Extended Tour
, ending in Kiens, is on page:
Staller Sattel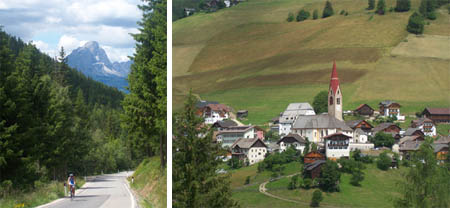 Furkelpass
(aka Pso Furcia)

Highest Point: 1789m

Eastern Approach:




from Floronzo, Pustertal (807m)

21.1km

982m

Western Approach:




from jct SS49 - SP44, Pustertal (1011m)

12.4km

778m

-----

View eu_Furkelpass in a larger map
-----
back to Cycling Passes in Europe